London moms and Russian supermodel join forces to help autistic children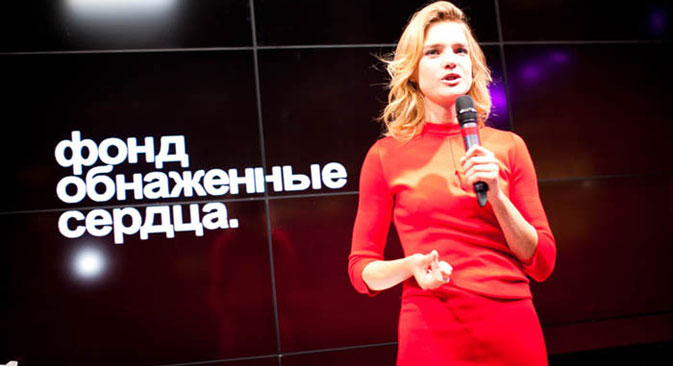 Natalia Vodianova and 'Naked Heart Foundation.' Source: Press photo
Naked Heart Foundation launches kindergarten project.
Naked Heart Foundation, founded by Russian supermodel and philanthropist Natalia Vodianova, is launching its first ever project in Russia focused on teaching kindergartens to use the latest approaches to working with children with autism.
Since 2004 The Naked Heart has been working on building an inclusive society that is open to people with disabilities, through play and the creation of free support services for disadvantaged families.
"We are working to tackle the stigma of disability, so that no parent feels pressured to give up a disabled child," the charity's website says.
The Foundation also supports a range of Russian NGOs focused on children with special needs.
"For the past two years Naked Heart experts as well as international specialists in child development have been successfully working with teachers of six special schools in the Russian city of Nizhny Novgorod," says Anna Mozhutina, Director of Communications for Naked Heart Foundation.
As a result, children, who just two years ago were considered "not capable of learning" and were refused school places, are now successfully integrating in the school system. However children need to start taking part in intervention programs as early as possible.
The project is supported by web-community "Russian Moms in London," which allows Russian speaking parents living in the UK to find a wide range of Russian language services for their children and themselves.
"We care about what is happening in Russia and the collaboration with Naked Heart is a great opportunity to support the development of inclusive education," says Natalya Kuznetsova, leader of Russian Moms in London. "We want to find out more about child autism to help others to understand it. We also hope to gather money for training teachers of inclusive education, " she adds.
Naked Heart Foundation is organizing a lecture on modern concepts of child development and education on Sept. 1, 2015 at Imperial College in South Kensington. The lecture "How to help a child grow and develop: What we know about children with special needs" will be delivered by the experts of the Naked Heart Foundation.
All rights reserved by Rossiyskaya Gazeta.