Beslan marks 11 years since terrorist attack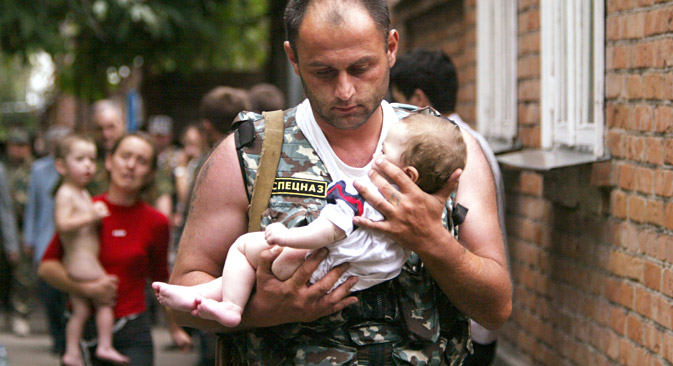 A Russian police officer carries a released baby from a school seized by heavily armed masked men and women in the town of Beslan, 2004. Source: Reuters
Commemorative events held to mark school siege that cost 385 lives
The town of Beslan in Russia's North Ossetia republic is marking the 11th anniversary of the school siege of Sept. 1, 2004.
Beslan's Secondary School No. 1 was seized by a group of terrorists on Sept. 1, 2004. More than 1,200 people – students, their parents and teachers – were taken hostage. For three days, they were held in the explosive-laden school gym, without food or water.
On the third day, Russian security forces stormed the school using tanks and heavy weapons, resulting in 385 deaths. While the majority of hostages were freed, 334 – including 180 children – were killed in the attack, and several more died later from their injuries.
Commemorative events are being held in Beslan, where more than 1,500 have gathered at the scene of the tragedy.
All rights reserved by Rossiyskaya Gazeta.