Poll: Russians consider U.S. amoral and devoid of spiritual values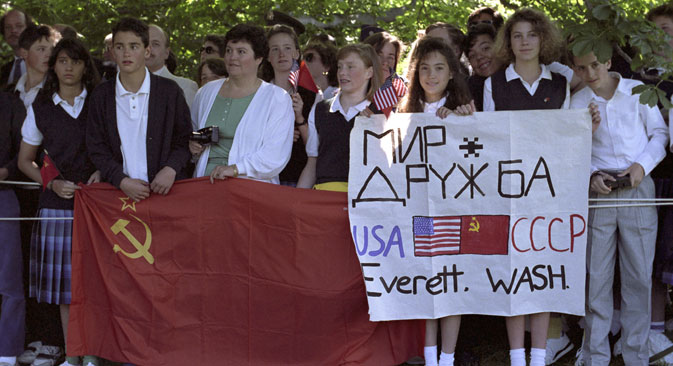 Washington dwellers waiting for USSR President Mikhail Gorbachev's arrival, June 30, 1990. Source: Yuryi Abramochkin / RIA Novosti
25 years ago, they valued America for its high living standards and freedom.
The United States is a country "of crime and moral decline," where "relations between people lack warmth." These were the most popular answers in a recent poll conducted by the All-Russia Public Opinion Research Center (VTsIOM) to gauge Russians' views of the U.S.
In a similar poll conducted in 1990, Russians associated the U.S. mainly with high living standards, an opportunity to reach success through one's own efforts, and advanced science and technology. In the poll 25 years ago, crime, moral decline and racism were cited by just a fraction of respondents, although that was the image of the U.S. that had been promoted in the Soviet media just several years prior to that.
The poll was conducted on July 25-26, 2015. It covered 1,600 respondents in 130 cities and villages. In 1990, the number of respondents was 1,520 people.
More U.S.-Russia stories in your box!
All rights reserved by Rossiyskaya Gazeta.