Russians less certain about Crimea than year ago – poll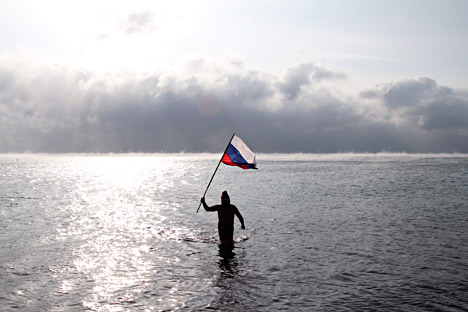 The number of people who believe that Russia's takeover of the peninsula has brought more good than harm has decreased from 70 to 59 percent. Source: Reuters
23 percent believe takeover of peninsula brought more harm than good.
The number of Russians expressing doubt over the positive effects of the joining of Crimea to Russia has increased over the past year, shows a poll conducted by the Levada Center in late August.
The number of people who believe that Russia's takeover of the peninsula has brought more good than harm has decreased from 70 to 59 percent, while the number of those who believe in the contrary has increased from 18 to 23 percent.
The level of support for Russian aid to the self-proclaimed Donetsk and Lugansk "people's republics" (DNR and LNR) in eastern Ukraine that oppose Kiev has also decreased. A total of 50 percent of respondents stand for military-technical support to the DNR and LNR (64 percent in June of last year) and 72 percent, for economic support (79 percent in 2014).
According to Levada Center analyst Denis Volkov, the survey reflects a trend "that has been noticeable for a long time, but has now become more tangible; as events unfold, as negative experience is accumulated, people are less inclined to support [the Russian leadership's policy toward Ukraine]."
At the same time, the sociologist stresses that the authorities' actions continue to enjoy the support of the majority of Russians.
All rights reserved by Rossiyskaya Gazeta.