Edward Snowden: Russia was last resort for me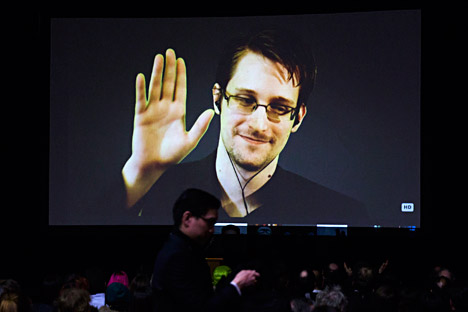 Former U.S. National Security Agency contractor Edward Snowden appears live via video during a student organized world affairs conference at the Upper Canada College private high school in Toronto, February 2, 2015. Source: Reuters
Reuters
Whistleblower criticizes country's stance on internet and homosexuality.
U.S. whistleblower Edward Snowden has revealed that seeking asylum in Russia was a last resort and has criticized the country for its stance on internet freedom and homosexuality.
"I applied for asylum in 21 countries," said the former National Security Agency (NSA) subcontractor on Sept. 5 as he was accepting the Norwegian freedom of speech award, named after Norwegian writer and humanitarian Bjørnstjerne Bjornson.
"They were all silent. Russia was actually one of the last countries in that sequence that I applied for," he said.
He also criticized the Russian authorities for their suppression of internet freedom and disregard for the rights of sexual minorities, highlighted by a 2013 law banning the so-called "propaganda" of homosexuality.
"I've been quite critical of it in the past and I'll continue to be in the future," Snowden said.
"This drive that we see in the Russian government to control more and more the internet, to control more and more what people are seeing, […] deciding what is the appropriate or inappropriate way for people to express their love for one another ... is fundamentally wrong."
Initially, the former NSA employee was planning to go to Latin America. Russia was a "transit country" on his way there. However, after the U.S. government revoked his passport, Snowden was forced to stay in Russia. In 2013, the Russian government granted him temporary asylum.
Based on articles from BBC and RBK.
All rights reserved by Rossiyskaya Gazeta.