Sightless children get a chance to read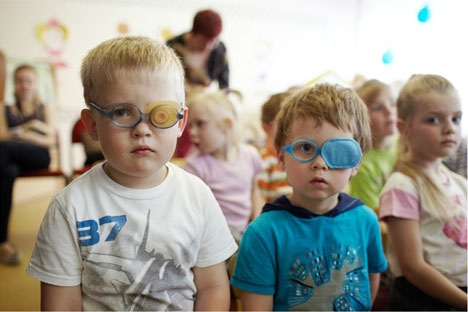 An organization creates uniquely illustrated, interactive books for little visually challenged readers, bringing Russian and world folk tales to life for them.
Source: Illustrated Books for Little Blind Children
For over 20 years, the charitable foundation 'Illustrated Books for Little Blind Children' has published and donated books for visually impaired children, illuminating their lives by bringing Russian and foreign stories to life with 3D printing and music.
The books do not use Braille because the small children are too young to have learnt how to read. Books published by the foundation have special tactile elements and a 'magic' pencil, which is an electronic device for' reading' printed micro-codes to enable the books to play music and 'view' text files.
Alexander Degen, the Foundation's chairman, said the idea began with greeting cards and the arrival of 3D printing technology. The next logical step was to create books for small children.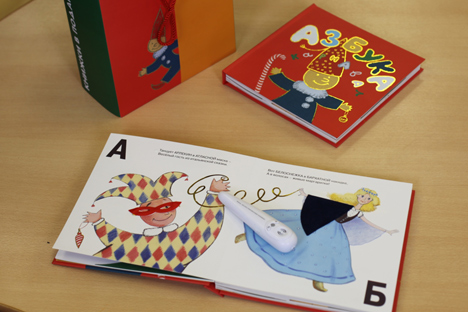 Azbuka and a magic pencil. Source: Illustrated Books for Little Blind Children
The Russian foundation, the only such organization in the world, secured the support of UNESCO, which recommended that its project should be rolled out to other countries.
Degen is convinced that illustrated 3D books help visually impaired children to develop and integrate with others. "Our books are designed for situations when a child who has no special needs comes up to a child with a visual impairment and says, 'Let me have a look too, please', because these are interesting books."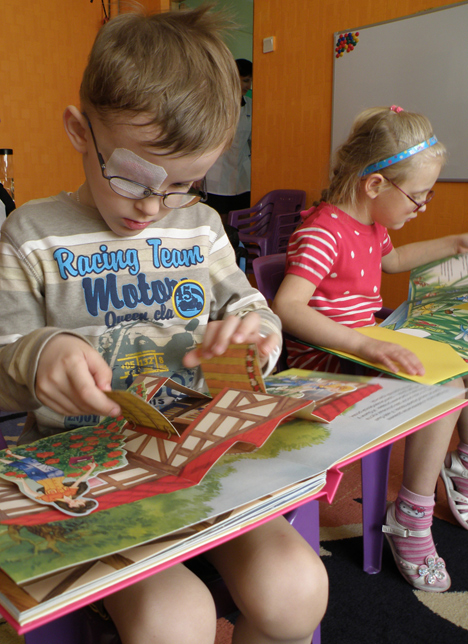 Books are interesting not only for kids with special needs. Source: Illustrated Books for Little Blind Children
The foundation seeks to make sure that all its books meet the highest artistic standards so that children from an early age are used to high-quality publishing values.
The foundation's website launched a book by a group of experts in working with visually impaired children that is especially designed for parents. "This book brings together the experience of the Children's Health Research Center and the Institute of Correctional Pedagogy, which the foundation has been successfully collaborating with for a long time. The center specializes in visual impairments in newborn babies. It turns out that unless a visually impaired baby is given proper treatment and exercise before it reaches six months, it will be impossible to restore its sight. However, if they are, there is a chance that the baby will be able to see," Degen said.
Source: Illustrated Books for Little Blind Children / RIR Video
The foundation is not a commercial enterprise, so rather than selling its books in the shops, they can only be obtained by a subscription. Anybody can make a donation and help the foundation to bring joy to little blind children.
Alyona Yermolayeva's interview with Alexander Degen was originally published in Russian on the Year of Literature website.
All rights reserved by Rossiyskaya Gazeta.