Why do diasporas in Russia want more political representation?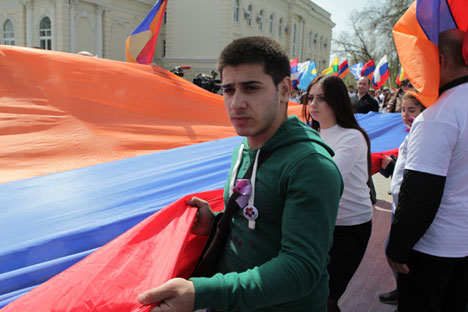 Commemorating victims of the 1915 genocide of the Armenians in the Ottoman empire. Source: PhotoXPress
The Eurasian Network of Political Studies (ENPS) NGO carried out a study earlier in 2015 called "Russian Social Organizations of Eurasian Diasporas: An Analysis of Influence Mechanisms," interviewing more than 60 diaspora leaders. The results show that Russia's diasporas want to participate in politics more actively. RBTH spoke about the study with ENPS president, Vitaly Merkushev.
RBTH: How did you determine what is a diaspora and what isn't?
Vitaly Merkushev:We determined what a diaspora is according to the broad sense of the term: as a part of a people that lives outside the borders of its historical motherland.
RBTH: What are diasporas concerned about?
V.M.: In general, the first thing is the protection of businesses. Mainly small and medium businesses.
Another interest is social diplomacy, in the sense of maintaining ties with their native countries and the countries' relations with Russia. It is important for these people that their native countries and Russia do not quarrel, so that family ties can be maintained. For example, because of the 2008 Russian-Georgian conflict people could not see their friends or relatives for 5-6 years. This is something that the diasporas want to avoid.
Thirdly, power, obviously. The diaspora leaders wish to participate in making political decisions, especially in foreign policy decisions concerning their motherlands.
RBTH: Which diasporas are the strongest?
V.M.: TheArmenian, the Azerbaijani… the Georgian is still rather strong. The influence of the Kyrgyz and the Uzbek diasporas is growing. Most want to strengthen their positions in Russia. Currently there is a small outflow, but in general for objective reasons, in people from Central Asia. Russia is a country that represents enormous opportunities for diasporas. The leaders say so.
RBTH: How many diaspora members approximately are there in Russia?
V.M.: We divide the members into three circles, according to the broad interpretation of the term "diaspora." The first circle consists of Russian citizens of foreign origin. Official statistics from 2010 say that five percent of the Russian population, or seven million people, identified themselves with a foreign nationality. This 2010 census does not correspond to the reality concerning certain nations: "There are about twice as many of us (diaspora members)," said the diaspora leaders. Particularly unrealistic figures were attributed to people from the South Caucasus. But no one seriously considers the figures from the 2010 census, according to which in Moscow alone there were 106,000 Armenians, that is, one percent of Muscovites.
The second circle consists of people who officially live and work in Russia, those from the Eurasian Economic Union. These are Belarusians, Kazakhs, Armenians and soon this category will include the Kyrgyz. This is a huge number of people, about 2.5 million.
The third circle consists of an enormous number of legal and illegal migrant workers. There are at least 11 million of them. This was the figure that many experts were naming recently. Now, of course, after the introduction of work licenses, there are fewer of them. But it is doubtful that the figure has decreased by more than 25 percent.
Practically all the heads and leaders of the diasporas in the first circle have a Russian passport.
RBTH: How do diasporas view migrants?

V.M.: Diasporas are mostly critical of the increase of flows of migrants. Except for the Uzbeks and Tajiks. They're for it. The diaspora leaders think that in Russia they have to concentrate on the people who are already here. Expanding the diasporas would only aggravate the situation.
RBTH: Are they loyal to Russia?
V.M.: On the whole, yes. They feel the power of Russian authority. And it's not in their interest to oppose it. But diaspora leaders still have big demands, which are not related to security, since Russia is already safe for the diasporas. The demands are related to their dream of a European living standard. They have traveled a lot abroad, as tourists, and many see that Russia will never have such standards, while in their historical motherlands there may be a breakthrough. There is a certain historical envy here.
All rights reserved by Rossiyskaya Gazeta.