Russian activists get quirky to raise breast cancer awareness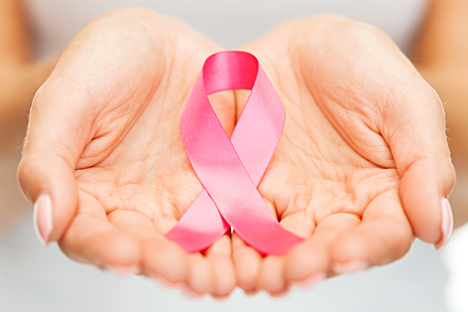 Breast cancer awareness events take many forms. Source: ShutterStock/Legion Media
Shutterstock/Legion Media
Russian breast cancer activists are taking a bold approach to promoting better public awareness of the disease. Recent initiatives have caught attention by assembling a bridge made of bras, hosting charity bike rides and even erecting a pair of giant inflatable breasts in the center of Moscow.
A bra bridge
A bridge made up of over 100 bras was built in the city of Nizhny Novgorod (402 km east of Moscow) as part of an initiative to raise breast cancer awareness. On May 20, the activists behind the event issued a call inviting all the female city dwellers to contribute to the construction of the bridge by giving away their spare bras.
Residents of the Russian cities of Moscow, St. Petersburg and Ufa, as well as the Israeli cities of Jerusalem and Tel-Aviv, also supported the event by providing their lingerie.
However, the organizers of the event, dubbed the "Bust Bridge over the Volga against breast cancer" were not only attracting attention to this major issue, but also offered some real practical assistance to women – all the female residents of Nizhny Novgorod attending the inauguration of the bridge were able to get free advice from Russia's leading oncologists and undergo an ultrasound scan in a mobile medical center deployed at the event.
Pedal on to fight breast cancer'
Breast cancer awareness events take many forms, including charity runs. The first run of the kind was held in October 1983 in Dallas, Texas, attended by 700 runners in total. Today such events involve millions of participants. Activists in Kazan (719 km east of Moscow) decided that cycling was a more efficient way to fight cancer than running.
The "Pedal on to fight breast cancer" events are held regularly and have already spread beyond the city's borders. Participants are invited to not only ride regular bikes, but also to pedal away on special stationary bicycles installed in malls.
Inflatable breasts
Last year, a pair of giant inflatable breasts was installed in central Moscow as part of a breast cancer awareness campaign.
The breasts were actually a pavilion housing an exhibition on breast cancer. Mobile mammography stations were installed nearby, offering free scans as well as breast self-examination lessons to all female visitors.
Based on Moskovsky Komsomolets, Inkazan.ru.
All rights reserved by Rossiyskaya Gazeta.