Putin postpones first launch from Vostochny Cosmodrome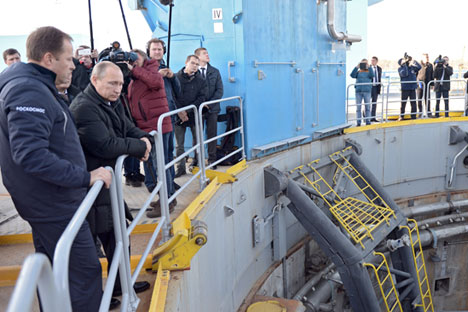 Vladimir Putin visits the construction work at the Vostochny Cosmodrome, Oct. 14. Source: RIA Novosti/Alexey Nikolsky
Ria Novosti/Alexey Nikolsky
No "super efforts" are needed, says Russian leader - what is more important is a 'quality result'.
Russian President Vladimir Putin has announced that the launch of the new Vostochny Cosmodrome in the Amur Region of the country's Far East, which is currently under construction, is to be postponed until 2016.
Putin, who was inspecting the new cosmodrome, agreed that the launch of the first rocket, initially planned for the end of this year, should be put back due to tight deadlines.
With "super efforts" the cosmodrome's first launch could take place towards the end of December, Russian Deputy Prime Minister Dmitry Rogozin said on Oct. 14.
However, Putin said that "no miracles" were necessary and stressed that the most important thing was "a quality result."
"We need. So let's agree to this: You finish the work related to water and electricity supplies. We need to prepare the rocket for launch, which should preferably take place in 2016, some time in the spring. If you can do it by Cosmonaut Day, that would be good."
Earlier, officials said on many occasions that the construction of the cosmodrome would not prevent the rocket launch by the end of the year. Putin also saw the progress, noting that the deadlines had been cut in half: Earlier eight months were needed to finish the project, now just four are required.
Nevertheless, experts also say the postponement is logical.
"There is never a need to hurry, especially in construction. Firstly, this may result in large expenses for improvement and secondly, in emergency situations," said Andrei Ionin, a member of the Tsiolkovsky Russian Space Academy.
He also remarked that the key element of the cosmodrome is manned space flights, since "Russia is managing all the other challenges very well thanks to the Plesetsk Cosmodrome in the Arkhangelsk Region and the Baikonur Cosmodrome in good-willed Kazakhstan."
In this context the date of the manned launch - initially planned for 2018 - is obviously more important.
"Few people realized that the second launch was postponed for five years and it is this second date that corresponds to the cosmodrome's functionality. The date of the first launch is only a subphase. Now the manned launch is planned for 2023," explained Ionin.
Construction of the Vostochny Cosmodrome began in 2010. It will be the first national civilian cosmodrome and will give Russia full access to space.
In 2013 a series of scandals broke out concerning the cosmodrome: 20 criminal cases related to theft, abuse of power and delayed salaries have been filed, and more than 220 officials are being held responsible.
All rights reserved by Rossiyskaya Gazeta.