Russia to build early warning system for natural disasters in Myanmar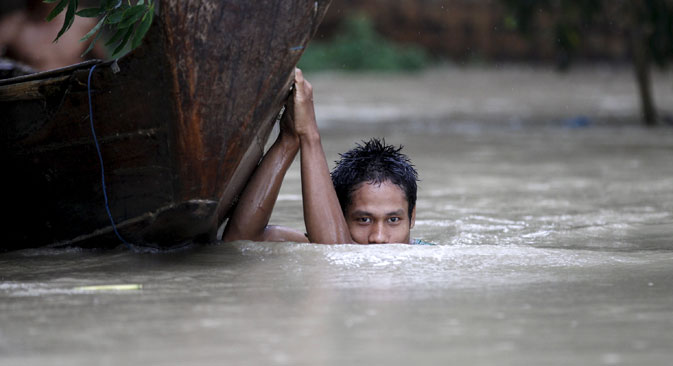 A boy moves his boat in a flooded village outside Zalun Township, Irrawaddy Delta, Myanmar, August 6, 2015. Source: Reuters
Myanmar has requested Russia's help in setting up a crisis management center. Floods in the Southeast Asian country this monsoon season have claimed more than 100 lives.
The Russian Emergencies Ministry will help Myanmar build an early warning system for natural calamities and supply it with equipment needed for clean-up operations, Vasily Pospelov, Russia's ambassador to Myanmar told Sputnik News.
"Myanmar's government is interested in building a nationwide emergency response system. We are discussing deliveries of equipment and communication systems," Pospelov told the news agency. "There is potential for developing cooperation on early warning and response to natural disasters."
Monsoon floods in the Southeast Asian nation this year have claimed more than 100 lives. The United Nations Office for the Coordination of Humanitarian Affairs said more than one million people were "critically affected" by the flooding.
On October 13, Russian Emergencies Ministry aircraft delivered 40 tons of humanitarian aid, including food, blankets, tents and inflatable boats, to the city of Mandalay.
Russia is also providing Myanmar's neighbor, India technical help in setting up a central crisis management center to effectively meet the challenges from natural and manmade disasters.
Russia has the state-of-the-art National Crisis Management Center (NCMC), which keeps real time record of each and every case of accidents and disasters in the country. The center has highly mobile infrastructure that can airlift rescue and relief teams into any part of Russia within hours.
Established in October 2008, by a decree of the Russian President, the NCMC is the daily management body of the Russian Emergencies Ministry. The rescue and relief workers and professionals of the ministry remain ready "24 hours a day, 7 days a week" to respond to any emergency situations, anywhere in the country or abroad. The ministry's personnel save a life every 12 minutes, according to the official statistics.
All rights reserved by Rossiyskaya Gazeta.