Bomb downed Russian A321 plane: FSB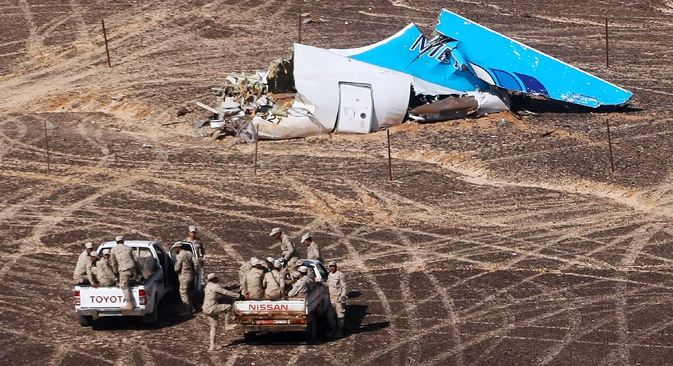 In this photo made available Monday, Nov. 2, 2015, and provided by Russian Emergency Situations Ministry, Egyptian Military on cars approach a plane's tail at the wreckage of a passenger jet bound for St. Petersburg in Russia that crashed in Hassana, Egypt, on Sunday, Nov. 1, 2015. The Russian cargo plane on Monday brought the first bodies of Russian victims killed in a plane crash in Egypt home to St. Petersburg, a city awash in grief for its missing residents.
AP
Russia's Federal Security Service has declared a $50-mln reward for information about those responsible for the plane crash.
Russian A321 plane was blown up by homemade explosive device equivalent up to one kg of TNT, Russian Federal Security Service (FSB) chief Alexander Bortnikov said.
"It can be unambiguously said that this is a terrorist act," Bortnikov said.
According to him, the traces of a foreign-made explosive were found in the airliner debris and the passengers' belongings.
"In the estimates of our specialists, a self-made explosive device with its power of up to 1 kilogram in TNT equivalent went off aboard the airliner, due to which the plane broke up in the air and this explains the spread of the plane's fuselage parts over a large distance," the Federal Security Service chief said.
The FSB takes measures to find those involved in the terrorist attack on board the Russian airliner in Sinai, the service's public relations center told TASS.
"FSB and law enforcement agencies of the Russian Federation are taking measures to detect the people involved in the crime," it said.
The Federal Security Service appeals to the Russian and the international community for assistance in search for the terrorists.
Russia's Federal Security Service has declared a $50-mln reward for information about those responsible for the plane crash.
"For providing evidence that will contribute to the detention of criminals a reward of $50 million will be paid," the FSB's public relations department said.
The Russian president Vladimir Putin has ordered Russian security services to concentrate on search for those involved in the terrorist act on board the A321 airliner in Egypt.
An A321 passenger jet of Russia's Kogalymavia air carrier (flight 9268) bound to St. Petersburg crashed on October 31 some 30 minutes after the takeoff from Egypt's Sharm el-Sheikh. It fell down 100 kilometers south of the administrative center of North Sinai Governorate, the city of Al-Arish. The plane was carrying 217 passengers and seven crew members. There were four Ukrainian and one Belarusian nationals among the passengers. No one survived.
First published by TASS.
All rights reserved by Rossiyskaya Gazeta.