Training doctors in telemedicine at RUDN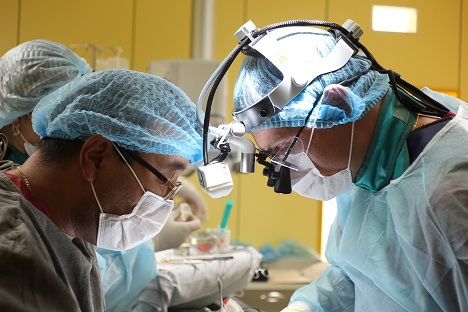 In certain difficult cases doctors need to use video conferencing for consultations. Source: Press photo
The People's Friendship University of Russia set up a school of telemedicine six months ago, inviting the best medical practitioners and consultants to be part of the faculty. The school looks to train doctors to help patients in remote areas around the world.
The People's Friendship University of Russia (RUDN), which has the largest number of foreign students, from 152 countries, established a school of medical information and telemedicine in May 2015. The school is headed by cardiologist Valery Stolyar who, for the past ten years, directed the department of telemedicine in the Russian Railways (RZD).
RZD is one of the largest companies in the country, employing around a million people. The company has more than 200 institutional clinics that serve more than six million Russians, including residents in the remotest regions of the country, where there are no hospitals except the "hospitals on wheels," or specially equipped trains.
According to Stolyar, doctors need to use video conferencing for consultation in certain difficult cases. Telemedicine is all about using technology to allow people living in remote places to consult with medical specialists is hospitals. This year, for example, it was used to help carry out an operation on a child with a heart anomaly. Telemedicine specialists also help the only doctor on the tiny Valaam Island in the north, which has a monastery with 150 monks.
There are few doctors who know how to run telemedicine centres, which is why RUDN decided to help equip its students with the knowledge. RIR looks at highlights of the new telemedicine course.
1. The course serves two departments at the university: medical and dental. The course usually lasts 36 or 72 hours. For young doctors the course can last up to 144 hours.
Source: Press photo
2. Obligatory international interactive teleconferences on current medical problems are part of the course program. A French professor delivered the October interactive lecture, which was dedicated to oncofertility, a subfield that bridges oncology and reproductive research to explore and expand options for the reproductive future of cancer survivors.
The November interactive lecture, delivered by a German specialist, is dedicated to oncostomatology, which studies cancer patients' oral cavities.
Such lectures do not have geographical borders, and have been conducted by professors from countries such as Brazil, India and China.
3. Students must study cases through the transmission of real tele-consultations and operations. They also receive access to the schedule of transmissions and conferences on the RZD telemedicine site, which contains 2-3 daily teleconferences with various Russian regions.
4. Among the equipment that is used to teach students is a unique instrument that helps any student observe an operation in real time with "surgeon's eyes." The system consists of a surgeon helmet with two miniature tele-cameras transmitting stereoscopic images of the operation field onto a special monitor. The image not only creates the effect of being present during an operation but also helps convey details and nuances of the surgeon's work that a typical operation transmission cannot convey. And this is very important for teaching students and conveying practical experience.
5. The final exam consists of an activity-game. The students are separated into groups of five to seven people, are given out roles (patient, parents, doctors) and act out a tele-diagnostic situation. The students choose the illness themselves, work out the subject matter in detail and prepare the necessary material: analyses, x-rays, sound study results. They also prepare the given patient's epicrisis. Then in real time, they remotely conduct a consultation session. "Such practice makes students understand why all this is done and how it is carried out," says Stolyar.
Source: Press photo
6. Telemedicine technologies can be used not only for remote hospitals on Earth but also in space.
7. According to Stolyar, "the course's aim is to teach students highly applicable things." Ideally the students must understand how to set up a telemedicine center in any region and country, how to train personnel, which equipment to select, how to establish communication channels and how to prepare tele-consultations.
8. Each RUDN graduate, regardless of nationality or residency, can count on his or her professors' help throughout his or her medical career.
All rights reserved by Rossiyskaya Gazeta.