BRICS countries moot joint research on public health issues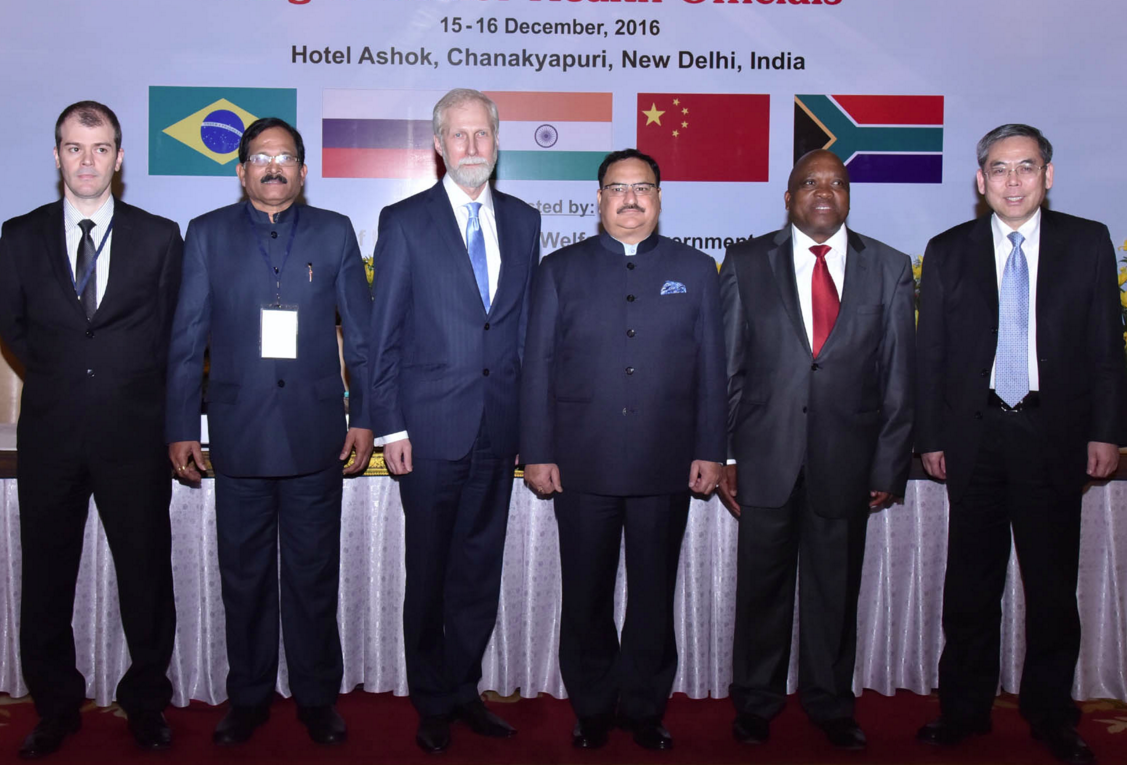 Meeting of senior health officials from the BRICS states.
Ministry of Health of India
Ministers and public health specialists from the BRICS met in New Delhi last week and finalized a plan to jointly tackle health emergencies like HIV, Tuberculosis and Malaria through coordinated research.
BRICS countries (Brazil, Russia, India, China, South Africa) will step up efforts to conduct joint research in combating disease and improving public health among their populations to ensure a more efficient struggle against dangerous diseases like HIV, tuberculosis and malaria.
Dmitry Kostennikov, deputy head of the Russian Ministry of Health spoke to TASS after the Sixth BRICS Ministerial Meeting on Health Issues in New Delhi, and said the main outcome of the meeting was improved and coordinated research to tackle public health emergencies.
"It is important that within the framework of BRICS, we carry out not only an exchange of technologies and the development of joint ventures, but also the co-generation of knowledge, because today, for many it is becoming obvious, that only together can we solve the most significant health problems" he said. "For the BRICS countries, a heavy burden is HIV, and many other diseases, including tuberculosis, and it is vital to work together to combat these dangerous infections."
Kostennikov said during the meeting, participants discussed the possibility of funding joint research in the field of health, by attracting the resources of the BRICS New Development Bank. In addition, members of the association do not exclude the possibility of creating a common fund for the allocation of earmarked funds towards a research network programme, which will bring together leading specialists of Brazil, Russia, India and China.
The deputy head of the Ministry of Health noted that Russia has excellent experience in the fight against various infections, including HIV, which it is willing to share with other countries.
"Thanks to large-scale prevention programmes in the last ten years, Russia has joined the world leaders when it comes to stopping the vertical transmission of HIV, and today, 98% of the children of infected mothers are born healthy in our country," he said. "We are also successfully fighting tuberculosis, the overall incidence of which, during the past eight years, has decreased by 32.2%, and the mortality rate from tuberculosis, by 60.2%, which is well ahead of the global average."
Increasing the use of traditional or alternative forms of medicine, like Ayurveda in India and Chinese traditional remedies was also discussed, while searching for ways of bilateral and multilateral collaboration on mutual recognition of pharmacopeia (medicines) and practice and practitioners of traditional medicinal forms and import/export of such products between the BRICS.
First published in Russian by TASS.
All rights reserved by Rossiyskaya Gazeta.