Four Russian basketball stars begin new NBA season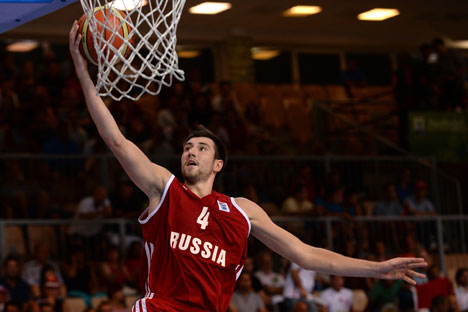 Sergey Karasev is a new defensman of Cleveland Cavaliers. Source: RIA Novosti
The new NBA season, featuring a record four Russian players, begins in October.
Russian defenseman (small forward) Sergey Karasev, who last year played for Moscow Region's Triumph squad, signed with the Cleveland Cavaliers as the 19th pick of the 2013 NBA Draft. According to Andrei Kirilenko—Russia's best player to date in the NBA—Cleveland is a team wagering on young players, making it "a very suitable place" for Karasev.
"Mike Brown is known as a coach who trusts young players. Playing his position are Dion Waiters and Alonzo Gee. These are good players, but currently not 100-percent sure to play ahead of Sergey. I think, if all goes well, he can challenge them for playing time—if not in the starting five, then from the bench, splitting time with them," Kirilenko told R-Sport agency.
Mikhail Prokhorov: 'I'm very glad that Andrey [Kirilenko] has joined my team [Brooklyn Nets].' Source: RIA Novosti
In 2011, Andrei Kirilenko returned to Russia due to the NBA lockout, after 10 years with the Utah Jazz, signing a contract with CSKA Moscow. The agreement included the option to return abroad following the lockout. But Kirilenko rejected the offer, instead rejoining the NBA in the summer of 2012 under a three-year agreement with the Minnesota Timberwolves, where Alexey Shved is one of his teammates.
In 2009, Mikhail Prokhorov bought a majority stake in the New Jersey Nets, sparking incessant talk that, sooner or later, Kirilenko would end up on the Russian businessman's team—and that's just what happened. The forward opted out of his contract with the Wolves and signed with New York, where the Nets relocated in 2012, becoming the Brooklyn Nets.
"I'm very glad that Andrey has joined my team. He started his main career with me, when I owned the CSKA team. And, in three years, he evolved from a mega-talented player into a veritable leader of our team and the country's. And now, with the NBA's strongest Russian player, we will win the title together," Prokhorov told R-Sport.
"I was given a rather rare chance to play in the team which abounds in top-notch basketball players, and this is indeed a very good chance to claim the title," said Kirilenko in his interview for R-Sport. Brooklyn was behind another major off-season headline, signing as head coach 40-year-old Jason Kidd, who was playing in a New York Knicks uniform just several months previously.
Incidentally, Prokhorov's pledge—a Nets championship or marriage—has one season to go. Brooklyn and Cleveland open the regular season when they face off in Cleveland on Oct. 30.
Alexey Shved played for CSKA before joining NBA. Source: RIA Novosti
Alexey Shved outperformed early in his first NBA season: The Russian saw 30 minutes of playing time and racked up 10 points per game. Yet Alexey waned toward season-end, at 30 on shooting percentage—not the result coach Rick Adelman expected from his defenseman.
The second year is most critical; here the player must exploit the advances given during the first season, not to mention the intensifying competition for Shved's position in Minnesota. Apart from "journeyman" Ricky Rubio, the Timberwolves have shooting guard Kevin Martin, fresh off a four-year contract worth $28 million.
Mogzov. Source: PhotoXpress
Last season was mixed for the Denver Nuggets. The team played excellent basketball in the regular season, notching a record 57 wins, yet was knocked out in the first playoff round, casting further doubt on the team's cup-winning potential. Russian Timofey Mozgov, meanwhile, spent almost the entire season on the reserve bench.
However, over the summer Denver fired head coach George Karl, who lacked confidence in the Russian center. New coach Brian Shaw sees potential in Timofey. "Timofey impressed me back in New York". Mozgov brings size and power under the hoop. Out of our "big men" he fits the best in the team's defensive schemes, deftly playing his position and acting according to the situation", Shaw told The Denver Post.
First published in Russian in RIA Novosti.

All rights reserved by Rossiyskaya Gazeta.