Olympic 'Road to Sochi' team heads to New York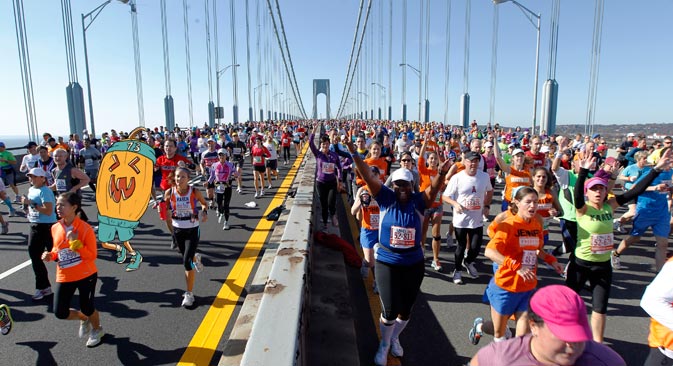 The "Road to Sochi–2014" starts in New York City on Oct.31. Source: Reuters / Сollage by Natalya Mikhailenko
The Russian-American "Road to Sochi–2014" project will participate in the New York Marathon.
The "Road to Sochi–2014" team will take part in the program of the New York Marathon, which opens this year on Oct. 31 and runs through Nov. 3.
The "Road to Sochi–2014" project was created about a year ago with the purpose of promoting in the United States the upcoming 2014 Winter Olympics in Sochi.
Members of the project have successfully performed in several of the largest track-and-field competitions in the United States, including marathons in Washington, D.C. and Baltimore, as well as prestigious races in Charleston, South Carolina and Atlanta, Georgia.
The project has been supported by the participation of many famous athletes: Valentina Egorova, Olympic marathon champion in 1992 and silver medalist at the 1996 Atlanta Games; Ludmila Petrova, the only Russian winner of the New York Marathon and the Soviet champion in the women's 10,000-meter run; Andrey Kuznetsov, a member of the first Goodwill Games in 1986 as a member of the Soviet national team and the winner of the first National Marathon in Washington, D.C.
"Initially we did not plan to participate in the marathon in New York City, as the registration there already was completed last year, when our project was only gearing up. This is the very reason why the team is not participating directly in the race on Nov. 3, although other Russian-speaking athletes, for sure, will be there," says Larisa Petrenko, the co-founder of the Russian-American project and the vice president of the American Association of Russian Women (AARW).
According to Petrenko, the idea of holding special promotion activities in the largest city of the country "has received support from the Russian Commission on Compatriots Living Abroad and Rossotrudnichestvo in the U.S."
"In the Expo Center, where a special exhibition will be held before the marathon and all marathon participants will receive numbers, we will place a stand and will introduce our project, handing out brochures and broadcasting a slide-show and movies about the upcoming Olympics," says the AARW vice president.
"It is expected that, this year, the exhibition will be visited by more than 100,000 people, and we hope to attract their attention to the competition in Sochi."
First published in Russian in ITAR-TASS.
All rights reserved by Rossiyskaya Gazeta.