A baseball school coaches students to use Russian game's skills in American sport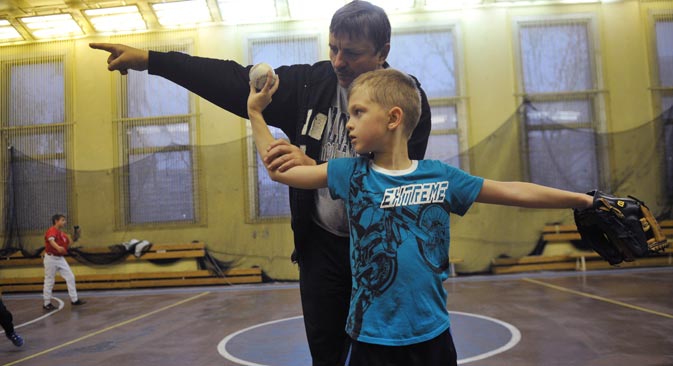 Spartak students have four training sessions per week. Source: RIA Novosti
A baseball school in Moscow is helping children discover their genetic predisposition to the bat-and-ball sport.
When you see a solid ball closing in on you at 87 mph, your natural reaction is to shut your eyes and try to dodge it. This, however, is something a professional baseball player cannot afford to do, as they only have a fraction of a second to assess the situation and decide whether or not to swing their bat.
"Many children are afraid of the incoming ball, sometimes it takes years of training to overcome this," said Pavel Gladikov, a coach at the Moscow-based Spartak baseball school. "Some 80 percent of the kids just stand there, their mouth agape, until the ball hits them on the forehead. Their reactions are too slow. I don't know why their parents and teachers don't teach them to react faster."
Still, Gladikov believes baseball is natural to Russians because of the American' game's similarity the traditional bat-and-ball game of lapta.
"The desire to swing at the ball, to run faster than the rest of them, to tag somebody is right there in our genes," Gladikov said. "Our school operates on the grounds of a comprehensive school, which holds regular lapta championships. This is where we find our talented students."
Spartak may not be the best-equipped baseball school in the world, but it has enviable resources nonetheless. The school uses the premises of an ordinary Moscow secondary school, so recruiting new baseball students from among the schoolchildren on a regular basis is not a problem. Rather than spending time and money looking for an appropriate diamond, Spartak uses the host school's own sports ground for training. Gladikov says their games gather more spectators than matches of the Russian professional baseball league.
In addition, there is a niche for nearly every person on a baseball team, Gladikov said. This makes it easier to include almost all students interested in learning.
"I had this student whom I just didn't know where to assign for a long time; whatever he was trying to do he was simply not good enough. Then suddenly, after two years of training, he started making very good throws, and after another year he became our best pitcher. He could make 140 throws times per game and get grumpy when I would finally replace him. For your information, professional pitchers make about 100 throws per game!"
Spartak students have four training sessions per week. Senior students additionally train in a municipal gym. Graduates usually go on to play for the major league team of the same name, but this year the professional club was hit by a financial crisis just one week before the start of the season.
Gladikov frequently visits the United States, bringing back at least two bags filled with baseball equipment each time.
"The kit you can get in Russian stores is usually inferior and may even be dangerous," he explains. "Locally available t-shirts, for example, are of low quality and too expensive. Wooden bats are an absolute no-no for us: they can break and injure the kids. Metal bats bend and generally don't last long, they are a waste of money."
A complete baseball outfit will cost the parents of a freshly enrolled child between $250 and $300. For kids aged 12 and older, the costs can increase by 50 percent to 100 percent or higher. The Spartak coaches recommend parents buy the most important gear first – a mitt and a uniform. The school provides everything else, including helmets, bats, and catcher's gear.
Baseball is viewed as predominantly a male sport, so the school is setting up a new female softball team. The coach, however, said he had his doubts about how successful it would be.
"Once our girls turn 14 or 15 they lose all interest in training and just leave," Gladikov said. "We have made three attempts so far to set up a female team, and all of them failed. Every time there were just too many beauties on the team."
First published in Russian in Moskovskie Novosti.
All rights reserved by Rossiyskaya Gazeta.