Russian hockey team once again an Olympic dark horse?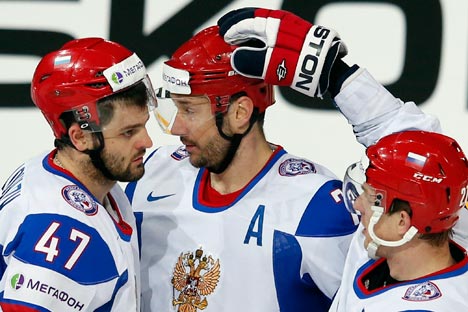 Russia's Ilya Kovalchuk (C) celebrates his goal against Austria with teammates Alexander Radulov (L) and Alexei Tereshenko during their 2013 IIHF Ice Hockey World Championship preliminary round match at the Hartwall Arena in Helsinki May 13, 2013. REUTERS/Grigory Dukor
The increasing strength of the Russia-based KHL will be key at the Winter Olympics.
During the Calgary Olympics of 1988, the iron curtain still stretched across Europe and across the world of hockey. The Soviet national team was a thing of legend, a roster of players who showed up largely unknown and usually left with the gold medal—just as they did in Calgary.
Occasionally, players like Vladislav Tretiak or Valery Kharlamov had become recognized legends worldwide, based on a handful of performances against Canada, but this was still a year before the first Russian, Sergei Priakin, moved to the NHL—and, neatly enough, he played for the Calgary Flames.
Twenty-six years later and ahead of the 2014 Winter Olympics, the Soviet days are long gone, but an air of mystery is returning. There is no iron curtain now, though—just a language barrier, as some of Russia's biggest threats for the Sochi Games in February ply their trade at home.
Since its founding in 2008, the KHL has swelled to 28 teams in eight countries, but it retains a firm base in Russia—and it uses Olympic-sized rinks rather than the smaller arenas used in the NHL. For players who have been enticed back to Russia (for example, the former New Jersey Devils star Ilya Kovalchuk), this detail could be crucial.
"[KHL players] have been playing the Russian-style and European-style hockey for a bit now. They've been playing on the larger ice surface, and they've been playing for Russian/European officials," Canadian hockey pundit Tony Ambrogio told RBTH. "I think those three factors give them a big advantage over the NHL players representing Canada and the U.S., especially in the Olympic Games in Sochi."
The KHL remains a clear second-best, however. This season, the introduction to the KHL of Croatia-based Medvescak Zagreb has been a useful yardstick, as the team composed of NHL has-beens and never-weres (Jonathan Cheechoo, anyone?) regularly records wins over some of the biggest teams—including Kovalchuk's SKA St. Petersburg.
Playing against sub-NHL-standard teams could cause Russian stars like Kovalchuk and former Nashville Predators wing Alexander Radulov to lose their edge, but the pride of a home Olympics outweighs that, Ambrogio concedes.
"I think it [...] could and probably has led to complacency, but I think, once the Olympics start, because it's in Russia, it means so much to the Russian-born players, like Radulov, like Kovalchuk," the hockey pundit said.
"I think for that two-week stretch they will be motivated and singularly focused on doing their best, and I really believe that, for those two weeks, you're going to see Russia play its best hockey. Quite frankly, I don't see how another team can beat them," said Ambrogio.
The best Russians—Evgeni Malkin and Alex Ovechkin—still remain in the NHL with the world's elite, but things are changing for the younger generation. Every time a young Russian gets drafted into the NHL, there follows a slew of "will he adapt?" stories around the North American league, which is wary of repeating past instances of a "crazy" foreigner flaking out.
If the emergence of the KHL has changed one thing, it has forced NHL teams to take better care of young Russian talents: After all, now they have an alternative.
Radulov is the classic example of a turbulent talent redeemed. His three seasons in Nashville were full of clashes with team management, culminating in a suspension for taking a teammate drinking before a playoff game. Back in Russia, however, Radulov is a reformed character and a reliable scorer for CSKA.
A return home does not cure everyone, though: Renowned NHL draft busts Nikolay Zherdev and Nikita Filatov are as erratic and disappointing as ever.
The KHL will never compete with the NHL for fans (pity the poor commentator who lands Neftekhimik Nizhnekamsk's game with Avtomobilist Yekaterinburg), but it is already making its mark worldwide.
Now that the NHL's no longer the only game in town, next year's Olympics could take hockey back to the future.
All rights reserved by Rossiyskaya Gazeta.