Varlamov: My fans understand the whole story and I feel their support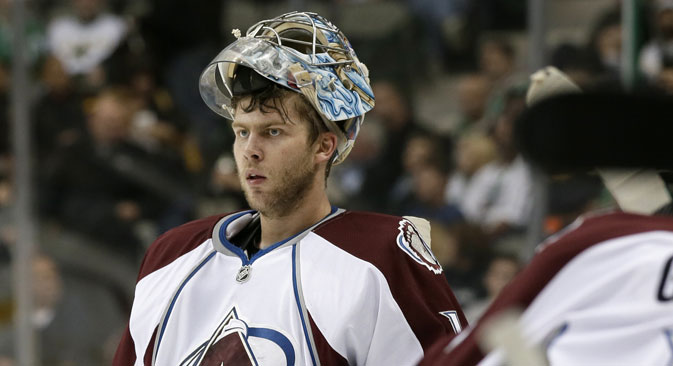 Semyon Varlamov: "I believe many people just understand the whole situation". Source: AP
In the exclusive interview with RBTH, NHL player Semyon Varlamov discusses his preparation for the Sochi Olympics and the recent domestic violence charges against him.
RBTH: How would you describe today's game?
Semyon Varlamov: It was a tough game. Nashville played really well today. They scored the first goal, and then scored another one right before the end of the period. And it's very hard to catch up. When we start with a goal, the game usually goes on better.
But you don't manage to score first all the time, so you have to learn how to win back. I think the guys were playing well tonight; they scored four goals and had lots of moments during the third period. Unfortunately they hit the cross-bar once then. Our team played well.
RBTH: How do you get along with Francois Allaire?
S.V.: Everything is super. We're working a lot. There was a lot of work during this summer - July and August, and in the training camp as well. A lot of new and interesting things happened. When a new goalie coach comes, he always wants to bring something new to your game, help you become better. That's why you have to be quick to grasp.
RBTH: Have you started preparing for the Sochi Olympics?
S.V.: It's too early to talk about that. It's still three months before that. And our guys who play here, believe me, they currently think more about the results of their teams they play for here. It's too early to think about the Olympics.
RBTH: Do you like Denver and do you miss [your home city] Samara?
S.V.: I love my city, Samara. I have a lot of friends there. I started my hockey career there. I miss my friends, my parents. But work is work. Today I work and play here.
RBTH: You're currently going through an uneasy period of your life, and many fans are showing their support for you. Can you say something to them as an answer to this support?
S.V.: What can I say? I believe many people just understand the whole situation. Thanks for your support.
RBTH: Can you tell us something specific regarding that situation [with charges imposed on you]?
S.V.: I'm giving no comments regarding the situation you're referring to. But I see the support from my fans and my country. I can feel it.
All rights reserved by Rossiyskaya Gazeta.