Daniil Kvyat to drive in U.S. and Brazillian Grand Prix this season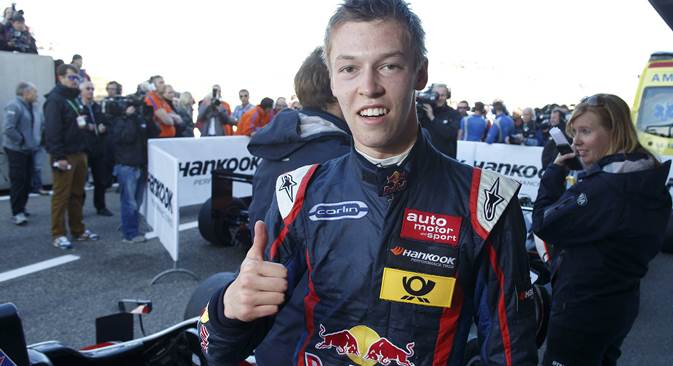 There are two important tasks now facing the Russian racer at the U.S. Grand Prix in Austin on November 15 to 17: break in his new racecar and explore the track before the new season. Source: Legion Media
Russian racer Daniil Kvyat, who will join the Toro-Rosso team for the 2014 Formula One season, will compete in the "royal races" this season.
Russian auto racing champion Daniil Kvyat will compete in several Grand Prix races this season ahead of his debut on the Torro-Rosso team in the upcoming Formula One 2014 series.
Kvyat, who took the title in GP3 series a day before, will participate in free practice in the U.S. Grand Prix in Austin and the Brazilian Grand Prix in Sao Paulo.
As early as some months ago, Kvyat, 19, suffered defeats and rejoiced over his first victories during the GP3 racing series. He now is ready to try his skills in U.S. Grand Prix already as part of Toro-Rosso, his future ream. Kvyat conducted tests in Misano a day before obtaining his super license, having covered 300 km (186 miles) behind the new wheel.
Such a trial was a formality for the young racer. He guaranteed Formula-1 participation for himself a earlier when he took the champion's title at the final stage of GP3 series in Abu Dhabi.
"Today we have seen again that he is a brilliant racer," Helmut Marco, the Red Bull advisor, was quoted as saying in f1news.ru. "Kvyat has overcome a tremendous pressing related to his transfer to Formula One. All experts said he's too young, but the same thing happened when we selected Sebastian Vettel."
Kvyat tested the Formula One pilot's seat in the summer of 2013 for the first time, in Silverstone youth trial series. That opportunity came as a reward for his win in alpine Formula-Renault 2.0.
His first heat did not end successfully: Kvyat hit the gravel bed on the 23rd lap trying to catch up with the leader. According to the racer, he managed to adapt rather quickly, and started attacking and searching for the limit of car possibilities after 15 laps.
"The most important thing is that I felt confident that sometime in the future, I would manage to be the first on a Formula One race car. It's just a racing car after all. Yes, it's much faster than those I drove before. I need time to feel it. The head needs readjustment," Kvyat told Autosport.com.ru.
"Daniil actually has a good account of himself, for he has had many adventures during the latest tests," the Toro-Rosso head said. "He managed to get into the race swing at once and delivered a series of smooth and rapid laps, thus surprising us to the max. Many criticize Daniil for hitting the marble, but it is normal when you're searching the technique saturation point. It was just that hit that proved Kvyat is not afraid of risk."
After signing a contract with Formula One, Kvyat had no opportunity to interact with new team colleagues, as he was concentrated on GP3 racing series. Kvyat started this season far from perfect: he was pursued by crashes, so he downgraded to the middle GP3 championship standings as a result.
However, Daniil's factors boosted after the Formula One testing heat. He was on the podium at Hungarian Hungaroring, followed by victories in Belgium and Italy.
Before the final season stage, Kvyat was seven points behind the championship leader, Facundo Regalia from Argentina. He made up ground in Abu Dhabi to three points, at first having won the pole in qualification, and then winning the first confident win in the race. Such success, combined with Argentinean's poor performance, earned Daniil a championship title.
Kvyat proceeded to the Toro-Rosso location promptly after the Abu Dhabi victory and took part in Misano Formula One testing series. The young racer was much more quiet and confident there, than he had been in Silverstone. This time, he piloted a Toro-Rosso car again, but another model, insignificantly differing from the previous one.
There are two important tasks now facing the Russian racer at the U.S. Grand Prix in Austin on November 15 to 17: break in his new racecar and explore the track before the new season. The next Kvyat's free practice is planned for Brazilian Grand Prix on November 22 to 24.
First published in Russian in Gazeta.ru.
All rights reserved by Rossiyskaya Gazeta.