Russian Paralympians gave master classes for children with disabilities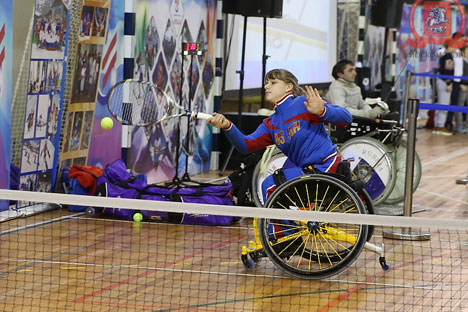 Moscow students with disabilities get inspiration from champions in weightlifting, table tennis and other Paralympic sports during International Day of Disabled People.
Source: Moscow City government
Hundreds of special needs students got a glimpse of Olympic gold this week during a master class presented by Russian Paralympians.
More than 200 students from special schools in Moscow and the Moscow region gathered at the event, which was organized as part of the International Day of Disabled People, which was celebrated on December 3. Russian Paralympians took time out from their training to meet with children with disabilities, many of who have never been engaged in sports or have been health reasons.
Lisa Denisova, 16, moves only on a wheelchair but has not let a musculoskeletal system stop her from a self-victory.
"I try different sports. Previously I used to play parabasketball and archery, and now I am looking for a new sport," Denisova said.
Other students participated in master classes on fencing in wheelchairs, as well as wheelchair mini-golf and table tennis. Paralympians and professional athletes helped students find sports that suited their interests and abilities. For some the lessons from champions came quickly; for others, it was a bit harder.
Luckily, the students had inspiration in the champions to whom they could look up to. Most of the Paralympians at the master class once started out the same as the students.
Raisa Chebanika remembers how many doubts she had at the beginning of her career. With perseverance and the will to win, she won the gold in table tennis at the 2012 Paralympic Games in London. At the special event for Moscow's disabled students, she taught children how to hold the racket and play to the end and not to give up.
Paralympic athletes said they were happy to give such master classes, because they understand how important support is for the students. They needed it, too, when they just started out, they said.
"The support of fans is a 50 percent of success. I liked it in London that not only representatives of our countries supported us, but even the British themselves supported us, just for the beautiful game," Chebanika said.
"When people support you, it encourages you; inside you feel this support and adrenaline and you perform well," said Vladimir Krivulya, who won the bronze medal for powerlifting in the Paralympic Games in London.
At the end of he event, the children promised to watch the upcoming Paralympics Games. Ticket sales for these games are selling out quickly at the box office in Moscow and Sochi, as well as on the Internet. Apparently, most fans will be at the opening and closing games, competitions in ice sledge hockey and alpine skiing.
The competition program will be a record in the history of the Paralympic Winter Games: During the course of nine days, 72 sets of medals in five sports will be played.
After participating in various master classes, Denisova seemed to have found what she was looking for: She surprised herself and Krivulya when she confidently and professionally lifted almost 40 kilograms. Who knows, maybe a new Paralympic star started shining at the event.
First appeared in Russian at First Channel.
All rights reserved by Rossiyskaya Gazeta.