Russian football team sets up a home in Brazil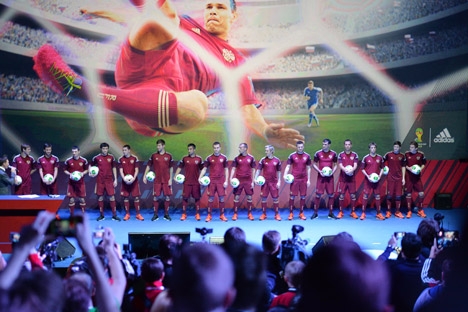 All the movements of the footballers will be accompanied by military police officers. Source: Alexander Vilf / RIA Novosti
The Russian national team will be living under sniper protection during the 2014 World Cup in Brazil.
The Russian national football players will be camping in a base in Itu city in Sao Paulo state during the world championships in Brazil. The Russian football union will confirm the chosen place of relocation for next summer, but officially the training camp in Itu will belong to the Russians at the end of January 2014 after completing all the formalities.
The Japanese national team will be camping next to the Russians, according to Rakel Verdanachi, the coordinator of the executive committee of Sao Paulo. "There are two training bases located in Itu, which are constructed according to international standards. The Russian and the Japanese football federations have already notified of their commitment to camp here, and we are waiting for all the necessary agreements," said Verdanachi.
It's not a secret that the choosing of the base in Itu was initiated by Fabio Capello. The coach has been there twice and was impressed with the infrastructure and the level of security. Russia's Italian coach likes living far from the noise of the city, the press and other disturbing factors. The Russian national team football fans and mass media representatives will find it hard to get to Itu, since it is more than 100 kilometers from Sao Paulo. So, all the teams participating will be protected from uninvited guests.
All the movements of the footballers will be accompanied by military police officers, and the team's living and training places will be patrolled by arm guards, including snipers on roof tops.
Other teams taking part on the 2014 world cup have already decided where they will make their living arrangements in Brazil. Defending champions Spain are choosing accommodations based on the climate. The territory will consist of six football fields, a pool with thermal water and a sports hall. The Argentinian national team will be based in the city of Belu Orizonti at a base belonging to Atletico Mineiro, while the Italians chose the city of Mangaratiba, 100 kilometers from Rio de Janeiro.
The Germans went a step further and surprised everyone. The German national football union officials decided to build their own base after long consultations. Bundesteam intends to build a five-star hotel for 60 to 70 people in the period of three months with a sports hall and two training fields with the help of its own engineers. A place for construction is in an area near Port Segur north of Rio de Janeiro.
First published in Russian in Rossiyskaya Gazeta.
All rights reserved by Rossiyskaya Gazeta.