2013 in sport: The year of anticipation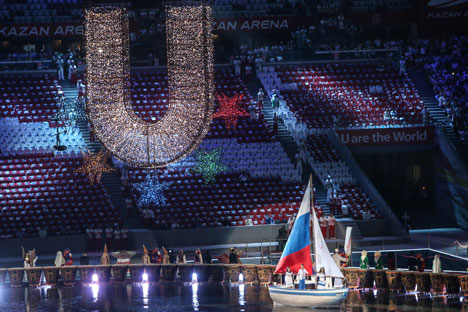 Universiade in Kazan was one of the most brightest events of this summer. Source: Rossiyskaya Gazeta
For Russian sports fans, 2013 was all about looking ahead to next year - and the future's bright
If you struggled to wait for Santa Claus, spare a thought for Russian sports fans - their whole 2013 has been like an extended Christmas Eve, and the big day isn't for another six weeks.
In Russia, the sports scene in 2013 has been all about anticipation for the Olympics, which start February 7, but that's not to say there hasn't been some drama along the way as the six-and-a-half-year wait finally nears an end.
Down in Sochi, the facilities are all but finished, with workers left only to put the final touches to the Fisht Olympic Stadium, the venue for the opening and closing ceremonies.
"Overall, the level of preparation is very high," Russian Sports Minister Vitaly Mutko was quoted as saying by RIA Novosti.
"Regarding the sports facilities, they're all ready. There are issues over the tweaking of some technological decisions, but overall, everything's ready."
As the $50 billion Games get closer, top Russian officials have started to manage expectations downward. No longer is there any talk of the host nation topping the medal table - instead predictions of a top-three, even top-five finish abound. Part of that is natural caution - no one wants to look a fool come the closing ceremony - but there are some real worries about how well Russia can perform.
It's hard to find an event where a Russian athlete is the favorite for gold - perhaps the only example is pairs figure skating, where Tatiana Volosozhar and Maxim Trankov have been breaking world records for fun throughout 2013.
Elsewhere, there should be medals for Russia in biathlon, cross-country skiing and short-track speedskating, where South Korean import Viktor Ahn is the host nation's secret weapon, but to say gold is guaranteed would be a real stretch.
The home crowd will probably make the Russians favorites to win the hockey tournament, but things have not gone smoothly 2013, not least an 8-3 pounding by the United States in the world championship quarterfinals.
Away from winter sports, there were good signs for the Olympics as Russia succeeded in staging two major sports events in 2013 - the world athletics championships and the Universiade.
The athletics in Moscow started off hampered by poor crowds and bad atmosphere - Vladimir Putin gave his opening speech to a half-full stadium and Usain Bolt said "no one was laughing, everyone was too serious" after blazing to victory in the 100 meters.
That sluggish start was canceled out as crowds improved later, with a truly electric atmosphere for the biggest home win of the competition, as Yelena Isinbayeva flew to pole vault gold.
Elsewhere, it's been a mixed year for Russian sportsmen. The big success came in soccer, where Italian coach Fabio Capello has breathed new life into the Russian national team, turning a squad of individuals into a discipline, destructively well-organized unit that in October qualified for the World Cup for the first time in 12 years.
A favorable draw has raised expectations that Russia could impress in Brazil in June - their opponents for the group stage are a tough Belgian team and the comparatively weak Algeria and South Korea.
As if to balance out the success on the football field, Russian basketball struggled through a year that was little short of a calamity.
The men's and women's national teams suffered the indignity of going out in the opening group stage of the European championships, a tournament that both had a good chance of winning, at least on paper.
That came after Russian men's champions CSKA Moscow choked at the Euroleague Final Four, and before the Brooklyn Nets, owned by big-spending Russian billionaire Mikhail Prokhorov, embarked on a truly rancid 2013-14 season.
In the pool, Russia gained its first truly top-class swimmer for years as Chechnya-born Yulia Yefimova stormed to three world records in breaststroke. She's since lost one of those to 16-year-old Lithuanian prodigy Ruta Meilutyte, but the ingredients are there for Yefimova to be a threat for years to come.
2013 has also been a year that marked a watershed in Russians embracing sports from outside.
The Rugby World Cup Sevens took place in Mos cow's vast Luzhniki stadium and were broadly a success despite somewhat disappointing crowd numbers, while Russia's American footballers made it onto TV for the first time and 50,000 flocked to a motorsports weekend at Moscow Raceway headlined by Germany's DTM series.
Quite deservedly, February's Olympics have been the focus for Russian sports fans throughout 2013, but it would be wrong to think that it's been a dull year. Now, with Sochi 2014 on the horizon, next year promises to be very special for fans of Russian sport.
All rights reserved by Rossiyskaya Gazeta.