Swimming champion's possible disqualification "a blow to Russian sport"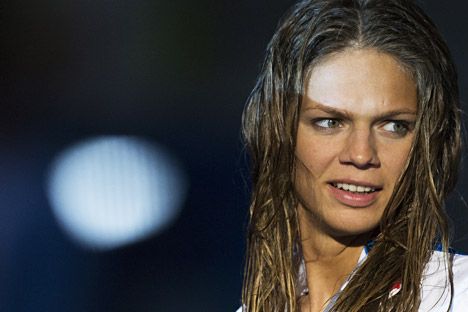 Efimova said in her explanatory letter addressing the results that she had been taking a food supplement that turned out to contain the popular performance-enhancing drug. Source: Alexander Vilf / RIA Novosti
Yuliya Efimova's positive doping test could knock her out of the Rio Olympics.
One of the world's best female swimmers, Russia's Yuliya Efimova, is facing a two-year disqualification after samples taken during preparations for a series of important competitions last November and December tested positive for the banned substance DHEA (dehydroepiandrosterone).
Efimova said in her explanatory letter addressing the results that she had been taking a food supplement that turned out to contain the popular performance-enhancing drug.
The test resultd mean that it will be very difficult for her to avoid a two-year disqualification, which is the standard penalty in such cases. According to international sporting rules, the first offence is punishable by two years' disqualification. after a second, the athlete is banned for life.
Efimova has refused to comment until her Sample B is tested in a month's time. Experts doubt, however, that the Sample B results will clear the Russian swimmer.
"When a substance such as DHEA is found in blood, in 99 percent of the cases, the finding is confirmed by Sample B," Russia's first Olympic swimming champion Galina Prozumenshchikova told RBTH.
"I am sorry to say this, but based on previous experience, Efimova is very unlikely to avoid a two-year disqualification. Yuliya is a great swimmer. I don't understand why she felt that she needed to take a banned substance. This is a major blow for Russian sport. She could have won two or three gold medals at the Rio Olympics in 2016. But now, we may never know."
Meanwhile, Dmitry Volkov, the advisor to the president of the Russian Olympic Committee, said Efimova may have been framed.
"I know of about a dozen cases when food supplements advertized as perfectly safe led to doping charges," Volkov said.
"I would like to hope that this is just a misunderstanding. I know Yuliya's American coach, David Salo. I am confident that he is very careful about his athletes' pharmacological regimen. He would not have allowed Efimova to take any banned substances. Maybe someone had deliberately put something in her food without her knowledge. In the swimming sport, this is called doping terrorism. Let us hope for the best. We would all hate to lose such a great athlete."
After her victory at the 2013 World Championship, Efimova gave a series of scathing interviews in which she accused the leadership of the Russian Swimming Federation of unprofessionalism and obsolete methods. She was also at the time full of optimism about her training program in the United States.
Efimova's former coach, Irina Vyatchanina, said the Russian athlete's decision to move to the United States was a big mistake.
"When she left for the States, I wrote a letter to the president of the Russian Swimming Federation and to the chief coach," Vyatchanina said.
"I was asking them, where are we sending this kid? Three of the swimmers her new coach had trained have been caught taking banned substances! And now the same thing has happened to her as well. There are many other Russian athletes training in the United States. I sincerely hope they will all avoid such humiliation. Yuliya's American coach has tried to break the technique we had taught to her. But she stuck to her usual style, and it delivered results. I don't understand her motives. Now all the great results she had achieved will be put into question."
Efimova is a three-time world champion and a three-time European champion. She has won seven gold medals in Europe in a 25-meter pool, and took the bronze at the London Olympics. She also won four gold medals at the World University Games in Kazan last summer.
All rights reserved by Rossiyskaya Gazeta.