There will be several naturalized athletes representing Russia at the 2014 Winter Olympics in Sochi. In other words, they used to compete for another country before becoming Russian citizens.
They include Viktor Ahn (Ahn Hyun-Soo), a South Korean, three-time Olympic short-track speed skating champion, and Alex Glebov, a Slovenian Alpine skier. But for both of them, the decision to become Russian citizens mostly had to do with practical considerations: They are now able to compete at an international level thanks to less fierce competition for places on the Russian national team.
For Vic Wild, a snowboarder from the United States, the motivation was quite different. He fell in love with a fellow snowboarder from Russia, Alena Zavarzina. He proposed to her and after the two got married, he moved to Russia and changed his citizenship.
The Russian Federation of Alpine Skiing and Snowboarding said Wild himself came up with the idea of becoming a naturalized Russian. The U.S. federation did not mind; they were very understanding of this personal decision made by one of their best sportsmen.
Vic knew very well that for a number of formal reasons he would have to miss a whole season of international competitions, but he did not back down. He had to sit out the 2011-2012 winter season, although he continued to train a lot.
Then in May 2012, the Russian president signed the decree granting him citizenship. The first competitive event when Wild represented Russia was in December; he won a medal at one of the World Cup stages. In January 2013 he won bronze for Russia at the parallel giant slalom world championship, and in early 2014 he won his first gold at a World Cup stage. That was his best performance ever. Things had never gone as well for him during the years when he competed for the United States.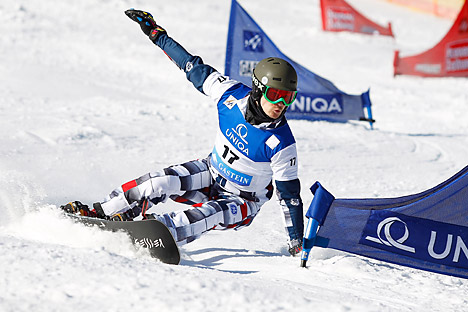 Vic is conquering Russian snowy slopes. Source: Imago/Legion-Media
Alena Zavarzina is 24, three years her husband's junior. She was born in Novosibirsk, thousands of miles from Wild's native Washington State. She began snowboarding at the age of 10; her mother took her to the sport school. Her greatest achievement so far is a gold medal at the 2011 parallel giant slalom world championship. Alena's other interests include painting and photography. She is a student at the Moscow State Pedagogical University. She likes travelling and extreme sports.
She met Wild at one of the stages of the World Cup; men's and women's competitions are held simultaneously. Their acquaintance became something more during a competition in Moscow in March 2011.
"Vic came to Moscow without his coach," Alena said. "I was recovering from an injury at the time. I could barely walk, but I was still able to help him at the training sessions, and I showed him around Moscow. Even though I was still receiving treatment for my injury, I spent the next two months in excellent spirits. That's despite the fact that we hardly even saw each other, because we were living in different countries."
A Russian wedding, vodka and bears
Alena and Vic had their wedding in Novosibirsk. Vic is still full of memories about the event.
"There were huge crowds of people," Vic recalled. "People started coming to our house early in the morning. I don't really like drinking, but the company being what it was, I had to down about 10 shots of vodka. I had never drunk so much before, but I just could not refuse; all the Russians were asking me too nicely to refuse."
Vic said he is not afraid of the Russian winters, because it often gets cold where he grew up. He has already got used to his new life in Russia.
"My first vicarious acquaintance with Russia happened when I was seven, that's when I saw the movie The Hunt for the Red October. It depicts Russians as aggressive and unpleasant people. As I grew older I realized that the film is actually quite stupid, and that Russians are a pleasant and cheerful lot. There are many stereotypes about Russia in the United States. I can't say the one about vodka is wrong, but bears roaming the streets? Come on! Although, come to think of it, when I first came to St. Petersburg, I was almost immediately accosted by a street photographer who was walking around with a small bear."
"In Russia I don't have to worry about anything but snowboarding"
Wild's Russian is getting better every day. After he met Alena, he spent a month having six hours of Russian language coaching every day.
He says that now that he lives in Russia, he has a lot of freedom to pursue his professional career and achieve better results.
"Back in the States, I had to worry about lots of things, such as booking flights and hotels, and even looking for sponsors. Here in Russia, the government provides a huge amount of support to the sportsmen on the national team. I don't have to worry about anything but snowboarding. So I am very happy with how my life has turned out. I have a loving wife, and everything I need to win competitions. But, frankly speaking, snowboarding is a lot more popular in the United States than it is in Russia."
Through hardships to Sochi
Alena and Vic met the New Year on snowy slopes. But having barely begun, the year 2014 brought the couple an unpleasant surprise. In a bitterly ironic twist, just when Vic delivered a winning performance at the World Cup stage in Austria's Bad Gastein, Alena fell during qualifications and injured her arm. She had to have an immediate surgery, and her participation in the Sochi Olympics was put into question.
Fortunately, however, she recovered sooner than expected. On January 20 Russia announced the composition of its snowboarding slalom team: Vic and Alena are going to Sochi together.
All rights reserved by Rossiyskaya Gazeta.