Russia regroups for World Cup without Shirokov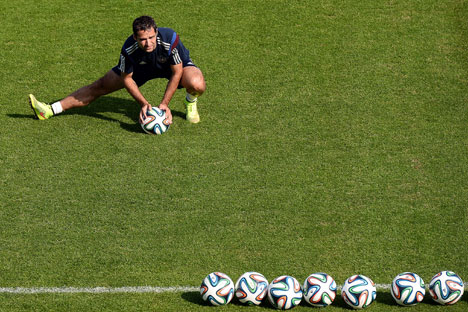 Without Shirokov, who plays his club soccer for Zenit St. Petersburg, the Russians have had to change the way they play. Source: Alexander Wilf / RIA Novosti
Russia's preparations for the 2014 soccer World Cup were thrown into disarray last week when star player and team captain Roman Shirokov was ruled out of the tournament. However, with Russia avoiding defeat in its warm-up games and enjoying a favourable draw, Fabio Capello's side may yet spring a few surprises.
Falcao, Franck Ribery, Marco Reus… Roman Shirokov?
As the World Cup draws closer, it seems the list of injured stars grows longer by the day, tired joints and ligaments finally succumbing to the strain of a season that, for many, started as long as 11 months ago.
Shirokov certainly lacks the international name recognition of megastars like Monaco's Colombian livewire Falcao, but the absence of Russia's captain could prove just as crucial.
Like Falcao, Shirokov is by far his country's best player; like the scarred French warrior Ribery, he courts controversy, and like both, he is out of the World Cup. Russia coach Fabio Capello waited for weeks on Shirokov's fitness before finally ruling him out following Russia's final warm-up friendly on Friday.
Without Shirokov, who plays his club soccer for Zenit St. Petersburg, the Russians have had to change the way they play. The 32-year-old provides creativity in the center of the pitch and has a useful habit of making perfectly-timed late runs into the box to score goals. Losing him meant Russia had to rapidly evolve during warm-up games, relying ever more on speed down the flanks from the likes of ex-Chelsea winger Yuri Zhirkov and Spartak Moscow captain Dmitry Kombarov.
Despite that setback, Russia managed to avoid defeat in its three World Cup warm-up games. Ahead of its group stage games against South Korea, Belgium and Algeria, the Russians have an enviable record of 10 games unbeaten. While that may look good on paper though, it masks a few weaknesses.
Only one of those 10 games was against a team that has qualified for the World Cup, a solid 2-1 win over South Korea in October. Since the Koreans ended up in Russia's group, arranging a friendly against them last fall now looks prescient. It was a solid win for Russia, who came back after going a goal down, but the setting – a near-empty stadium in Dubai – hardly compares to the humid, high-pressure atmosphere of a World Cup in Brazil.
Russia qualified for the World Cup in style, topping a group that also contained Cristiano Ronaldo's Portugal, but the standout match of that campaign, a 1-0 win over the Portuguese in Moscow, is now almost two years old.
The warm-up games were a mixed bag: a 1-0 win over Slovakia that was basically a 90-minute jogging session, an unconvincing 1-1 draw with Norway, and - the best of the bunch - a 2-0 win over Morocco in Moscow where Russia tore down the flanks almost at will, a promising sign the tactical shake-up could be working.
It's hard to gauge the atmosphere in Russia's Itu training camp outside Sao Paulo, partly the result of Capello imposing a social media ban on players. Unlike at the 2010 World Cup in South Africa, when the Italian coach's disciplinarian ways sparked discontent among his England team, Russia's players seem united – perhaps because Capello's methods pale in comparison with the regime favored by most Russian clubs, management by shouting. That hasn't stopped a few journalists claiming working up some stories about Capello the authoritarian, most notably reports of a (non-existent) sex ban for Russia's players.
The Russians have been fortunate with their group stage games, getting all three games in temperate conditions and avoiding a trip to the Amazonian hothouse of Manaus. Capello has set a target of reaching the quarterfinals, but has signalled he will accept merely qualifying from the group stage. Should Russia do that, potential second-round opponents are Germany, Ghana, Portugal or the United States.
Success will give Russia a firm foundation for hosting the World Cup in 2018. Capello has done well to get Russia this far – the country's first appearance at the World Cup for 12 years - but with Shirokov's injury forcing a tactical rethink, the wily old Italian will need to call on all his experience in Brazil.
All rights reserved by Rossiyskaya Gazeta.