Some pundits are casting Russia in the role of a "dark horse" for the World Cup in Brazil – in spite of the fact that not one of the team plies his trade abroad. Moreover, with the exception of the head coach Fabio Capello, the team has no household names. That does not prevent the Russians from seriously expecting to at least make it through their group. RBTH has identified key players in each line of the Russian national team, who should be especially watched.
Igor Akinfeev (goalkeeper)
If one looks at the statistics of Igor Akinfeev, one might think that he was forty years old. More than 400 games for CSKA Moscow, almost 70 games for the national team, five Russian championships, the UEFA Cup and a whole list of national records.
Several years ago, Manchester United was seriously interested in Akinfeev. Legendary United keeper Peter Schmeichel has recently confirmed that Sir Alex Ferguson saw him as a successor to Edwin van der Sar. However, the goalkeeper was injured, and the transfer never took place.
Akinfeev made his debut in adult football at age 16, and by 17 had already established himself as CSKA's first-choice keeper and brought that team to its first league title in many years. Since then, he has become the captain and a living symbol of one of the strongest Russian clubs, and on the national team, he has been replaced periodically only because of injuries.
Interestingly, even with all his experience and trophies, Akinfeev has only once participated in a major football tournament as the first-choice goalkeeper. And how! He was number one on the Russian team during Euro 2008, in which Guus Hiddink's team reached the semi-finals. Four years later, Akinfeev, just recovering from a serious injury, went to the Euros as a backup for Vyacheslav Malafeev, but in Poland, the Russian team was not able to get out of its group.
Sergei Ignashevich (defender)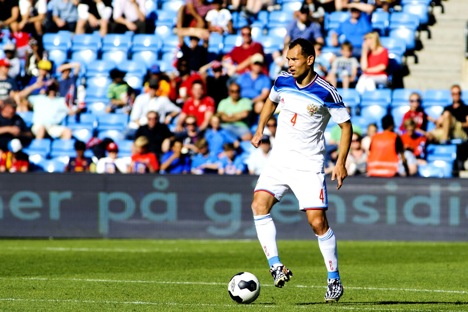 Sergey Ignashevich. Source: Imago / Legion Media
In Russia, it has been a tradition since Soviet times that at the end of the season, the football federation makes a list of the 33 best players, three for each position. Since 2001, Sergei Ignashevich has been a constant presence in the number one spot on the list of the best central defenders. This is an absolute record.
Ignashevich began his career at Torpedo Moscow, but developed into a top-class player at one of capital's other teams, Lokomotiv, with whom he won his first title. If not the tallest player in this role, at the height of 6.1 feet (186 cm), Ignashevich has amazing talent and excellent positioning.
Moreover, he is good with his head as well as in the opponent's penalty area, which he occupies for set pieces, and is also good at taking penalty kicks. Ignashevich has scored more than 50 goals during his career. In the Russian national team, there is simply no replacement for this 34-year-old veteran, whose greatest shortcoming is his lack of pace.
Alan Dzagoev (midfielder)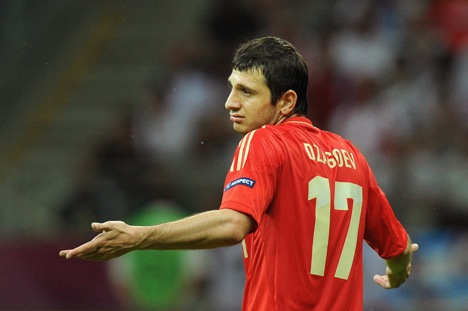 Alan Dzagoev. Source: Photoshot
There is no other player on the current Russian national team who has had so much written about him in the European press. Alan Dzagoev is regularly included in lists of the most talented young football players of the Old World, yet he remains at CSKA Moscow. And this World Cup has the potential to become a defining moment in the career of this dynamic young midfielder.
By the age of 17, Dzagoev had already scored goals for his first team, CSKA, and celebrated his first major victory – winning the 2008 Russian Cup. Even back then, English clubs like Tottenham and Chelsea began to show an interest in him. Nevertheless, he remained in the fold of the army club, though he was not a first-team regular under all the coaches.
Dzagoev has all the attributes required of a top class soccer player – speed, dribbling, a powerful shot, awareness and a scoring instinct. However, these are all canceled out by one serious shortcoming – a short temper and an inability to control his emotions in difficult situations. Dzagoev has already been sent off five times in his career, and each time it ended with a scandal and a serious investigation.
There is a suspicion that it is this temper of his that is preventing Dzagoev from becoming a mainstay of the Russian national team under Fabio Capello.
Alexander Kokorin (forward)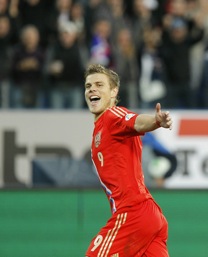 Alexander Kokorin. Source: Imago / Legion Media
The 23-year-old forward from Dynamo Moscow is one of the Russian players who scouts from top European clubs will be watching very carefully in Brazil. All the indications are that Alexander Kokorin has the potential to grow into a big star.
Kokorin had already broken into the Dynamo first team by the age of 17. However, fame and his first serious money did not have the best impact on the young forward – in 2010, he failed to score a single goal. However, the following season he was named the country's best young player. Then stability followed as well – in each of the last two seasons, Kokorin has scored ten goals.
As part of the national team, Kokorin, who has been nicknamed the Russian Justin Bieber due to his resemblance to the popular singer, went to the European Championships in 2012, and was even given some playing time.
Kokorin holds a team record: On September 6, 2013, he scored against Luxembourg just 21 seconds into the match - the fastest goal ever scored in the history of the national team.
All rights reserved by Rossiyskaya Gazeta.