With the 2014 edition of the tournament drawing to a close, in Russia attention is already beginning to turn to 2018, when the country will play host to its first World Cup. James Ellingworth identifies three key challenges that Russia needs to address if it is to host a successful tournament in four years' time.
It's all over so soon. Sixty-two matches down; just the third-place game and that rather appetizing Germany-Argentina final to go. And after that, a whole four years to wait until the next World Cup.
Preparations for that tournament, the first to be held in Russia, are already well under way, but a vast amount of work needs to be done. Twelve stadiums in 11 host cities spread almost 2,500 km from west to east – preparing for the World Cup will be just as intense as for the Sochi Winter Olympics, but with the added problem of coping with Russia's sheer size.
With that in mind, and in no particular order, here are Russia's top three challenges for 2018:
1. Confront the legacy of the 1990s
Russia was never expected to win the World Cup in Brazil, but the manner of its exit – three games, no wins in a weak group – has raised fears that 2018 could be less than enjoyable for the home crowd. Home field advantage helps, but Russia will be keen to avoid repeating the fate of the last two World Cup hosts – South Africa's group stage elimination in 2010, and Brazil's humiliation this week.
With many of Russia's 2014 squad likely too old to play in four years' time, much will rest on emerging stars. There's playmaker Alan Dzagoev, 24, who should be at his peak in 2018, 23-year-old winger Denis Cheryshev of Real Madrid, who has so far promised much but delivered little, and (perhaps) 18-year-old defender Amir Natkho, who has reportedly signed for Barcelona.
Russia's younger players grew up in the chaotic 1990s, when good food was often scarce and the country's once-world-leading youth soccer infrastructure rotted away. Good nutrition and strong youth coaching are widely seen as key to how young players develop, meaning success in 2018 will be Russia's triumph against its own recent history.
2. Build, build, build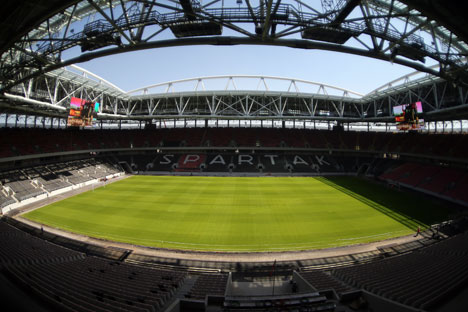 Moscow's Spartak Stadium. Source: RIA Novosti
It seems obvious – to host the World Cup, you have to build the infrastructure – but you'd be surprised how many hosts have found that a challenge. In the run-up to this World Cup, Brazil was rush-building stadiums, roads and airport capacity to avoid public embarrassment at the tournament.
Some of the consequences have been trivial – fans were soaked at Wednesday's second semi-final between Argentina and the Netherlands because the roof of the stadium was not finished in time – but a shadow was cast over the tournament when two people were killed in the collapse of a highway overpass that was built for the World Cup.
Russia's plans are grandiose, and so far, it seems, mostly on track. Most of the stadiums have had their designs certified this year and are starting construction, while three are already finished, having been built for other occasions, such as Sochi's Fisht Olympic Stadium. The first 2018 venue to host a soccer game will be Moscow's Spartak Stadium (temporarily known as the Otkrytie Arena for sponsorship reasons), which is due to host its first league game in September.
Russia still faces some challenges in World Cup construction, however. Sochi's infrastructure was (mostly) built on time, but it was all in one place. Effective oversight of 12 venues spread across the country will be harder. Another key issue will be persuading private investors to set up the necessary hotel capacity. That's easy in Moscow or St. Petersburg, but less so in unfashionable provincial host cities like Samara or Saransk.
3. Get the right fans to the stadium, keep the wrong ones out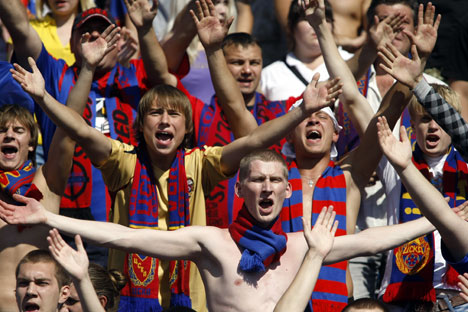 CSKA fans. Source: ITAR-TASS
Passionate home support is crucial to a World Cup, and Brazil has not disappointed on that score. Whether in the stadiums or at the vast public viewing site on the Copacabana beach, Brazil's crowds have been lively and loud. Just as importantly, the country's notorious hooligan gangs have been nowhere to be seen.
Russia must now match those achievements. First getting people to the stadium. Getting people to a World Cup shouldn't be hard, but some hosts, such as South Africa in 2010, have struggled to find enough paying customers among local fans. Russian fans have developed a habit of watching games on TV rather than going to the country's stadiums, with the result that the Russian Premier League's average attendance hovers around 13,000 – far lower than most European leagues. Shiny new arenas for 2018 will help, and the World Cup is a once-in-a-lifetime experience, but Russia's tournament organizers should be wary of assuming that if you build it, they will come.
A bigger challenge will be excluding, or at least controlling, fans with racist or violent tendencies. Eyebrows were raised last month when some Russian fans displayed extreme nationalist symbols at a World Cup game, and no one wants a repeat in 2018. There are problems at club level - Russian champion CSKA Moscow received two European sanctions last season for racist behavior by its fans, and racist chanting is not always taken seriously by Russia's football authorities and law enforcement. Violence in stadiums is by no means unheard of.
A new law toughening penalties for sports-related criminality holds promise. Crucially, it gives the authorities new plans to bar offenders from attending more sports events, potentially keeping bad apples away from the World Cup, but has yet to be used on a large scale. Education is needed too.
All rights reserved by Rossiyskaya Gazeta.