UEFA to separate Russian and Ukrainian soccer clubs in European cups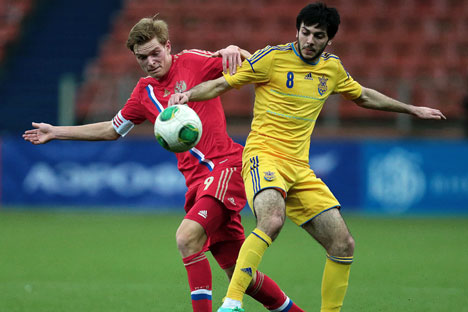 This is not the first time UEFA has taken the step of avoiding placing two teams from countries with tense political relations into one group. Source: Igor Russak / RIA Novosti
In connection with the situation in Ukraine, UEFA has decided not to allow matches between Russian and Ukrainian clubs within the Europa League and Champions League. Representatives of Russian soccer clubs have expressed their support for the decision.
On the eve of the draw for the qualifying rounds of the Champions League and Europa League, a UEFA extraordinary committee has decided to separate Russian and Ukrainian clubs participating in these tournaments. The decision is a result of the complex political situation in Ukraine.
"In light of the current political situation, the Russian Football Union and the Ukrainian Football Federation voiced their concerns about the security of matches between Russian and Ukrainian teams in UEFA tournaments.
"Taking their appeals into consideration and having examined the level of security in the region, the UEFA extraordinary committee decided that Russian and Ukrainian teams will not meet at UEFA tournaments until future directives," says an announcement published on UEFA's official site.
Understanding from the Russian side
"This is an absolutely correct, reasonable and competent decision, one that will help avoid unnecessary tension and possible confrontation," former Russian Football Union President Vyacheslav Koloskov told the R-Sport news agency.
Representatives of Russian clubs received the decision with understanding.
"Unfortunately, in light of the current political situation, this decision is certainly logical. It will help avoid useless conflicts and provocations. Unfortunately, this is the reality of life. But I want to think that it is only temporary," says CSKA Moscow's General Director Roman Babayev.
Sergei Galitsky, President of FC Krasnodar, which in the qualification round of the Europa League could have met Chornomorets Odesa and Zorya Luhansk, hopes that UEFA's decision is only a temporary measure.
"It is a political decision. If UEFA made it, it means it was necessary. Both Russians and Ukrainians are worried about the current situation. Should a Ukrainian and a Russian club meet in the final of a European championship, I think UEFA will permit it. In general, sport and politics should not be tied. I think that this unfortunate situation is temporary and will eventually be resolved," Galitsky told R-Sport.
Not the first precedent
This is not the first time UEFA has taken the step of avoiding placing two teams from countries with tense political relations into one group.
In 2006, according to the draw for the qualifying rounds of the Euro 2008 tournament, Armenia's national team was scheduled to play two matches against Azerbaijan, with which it fought a war in the early 1990s over the disputed region of Nagorno-Karabakh. Since neither side could guarantee security for their adversary's delegation, a special verdict pronounced by the soccer authorities cancelled the match.
Afterwards, both UEFA and FIFA introduced a clause in their regulations stipulating that the placement in one qualifying group of the Armenian and Azerbaijan national teams, as well as those from Russia and Georgia, would be annulled until further directives.
Combined report based on materials from articles by Rossiyskaya Gazeta and R-Sport.
All rights reserved by Rossiyskaya Gazeta.