Russia's Tiger of golf looks for its champion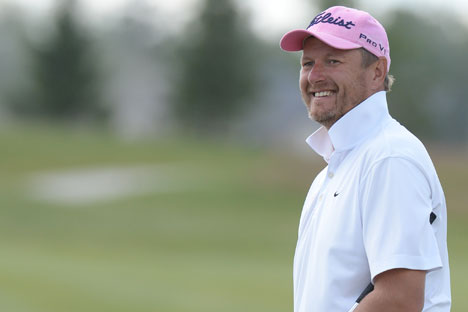 Yevgeny Kafelnikov traded his tennis racquet for golf clubs. Source: RIA Novosti / Sergey Kuznetsov
As the M2M Russian Open starts, supporters of the sport in Moscow are looking for ways to develop it ahead of Rio 2016.
Yevgeny Kafelnikov, a tennis champion in the 1990s with two Grand Slam titles under his belt, also has the distinction of being Russia's best-known golfer. After retiring from tennis in 2003, Kafelnikov traded in his racket for a set of clubs. He played the European PGA tour in 2005 and the Russian Open in 2008.
Kafelnikov has stated that one of his goals is to play golf at the sport's Olympic debut in Rio in 2016, and that thought will be on the minds of many participating in the M2M Russian Open Championship July 24-27 at the Tseleevo Golf and Polo Club outside Moscow.
Russian golf pros and enthusiasts, however, are increasingly focused on developing a new generation that will produce better results on the European tour. And that grassroots campaign is happening in some unlikely places. The Tiger Golf Club, in the industrial Kapotnya district of southeastern Moscow, offers five holes, a driving range, and a burning desire to bring more people into the sport.
While Tseleevo offers a course designed by the legendary Jack Nicklaus in a beautiful woodland setting, Tiger finds itself hemmed in by cooling towers and electricity pylons. Tseleevo's rival attractions include a polo field; Tiger shares office space with a company that specializes in artificial turf.
Small wonder, then, that Yury Shalimov, Tiger's director of golf, is determined to shatter the stereotype that golf is an exclusive pursuit and attract local families to the game.
"We don't want this to be a closed environment, we want this to be a place where people can come along and give it a try," Shalimov said. "You can start this game at any age. It's not just for the super rich, it's open to anyone.
Shalimov is persuasive when it comes to promoting the game. A former hockey player, he is eloquent about the attractions of golf – and is well aware that the costs of equipment need not be any more onerous than buying skates, sticks and a full set of padding.
"Sometimes we find kids sneaking onto the course and collecting balls," he said. "When that happens, we lend them some gear and invite them to a free training session. That way we attract some of them to the game.
"Then we get their parents on the phone, asking what golf is all about – they've never heard of it before. We're determined that we should have an open door policy.
Tiger Golf Club's commitment to attracting youngsters chimes with a nationwide scheme that aims to get golf onto school sporting curriculums, something that has moved up the Russian Golf Association's priorities since Andrei Vdovin became president last year. Vdovin explained earlier this year that the school golf program had been neglected since its inception three years ago, but was restarted in April with 50 pilot schemes in schools throughout Russia. Further expansion is planned when the new school year starts in September.
Meanwhile, Kafelnikov himself is seen as an asset to the game's development – especially among young players. During the recent Russian Championship, a tournament that the former tennis player won in 2011, Vdovin told Russia's R-Sport agency: "For any sport trying to gain popularity, the presence of a globally renowned player like Kafelnikov is very important."
Shalimov agrees. "We need to get more people involved in golf in Russia. It's good that we have a few famous names who are playing. A sportsman like Kafelnikov doesn't play tennis any longer but he has the right attitude to sports, he's a good example."
Kafelnikov and Russia's other pros are now looking towards 2016 and the sport's Olympic debut in Brazil. Vdovin is looking for a foreign coach to support Russia's push for medals in an event where traditionally it has lagged behind the rest of the world.
"People talk about TV exposure, and there is a cable channel in Russian dedicated to golf, but if you don't know the game it doesn't make sense when you watch it on TV," Shalimov said. "One ball goes in the hole, and the commentator says it's a birdie and everyone cheers; the next ball goes in the same hole, and that's a bogey and everyone looks worried, but if you're not used to golf it's hard to understand what it all means. That's why we need to get more people to come along and give it a try for themselves."
All rights reserved by Rossiyskaya Gazeta.