Baseball: The great Russian pastime?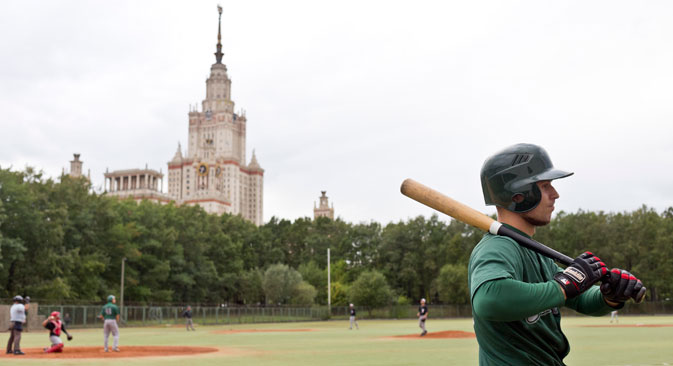 Moscow's Green Sox are regulars in the Russian championship games. Source: Mark Boyarsky
Baseball has struggled in Russia, but is showing signs of life among the nation's youth.
The all-American sport of baseball has few fans among the Russians, who have long favored soccer or hockey. Yet the game has its own history here, and its own minority set of hardcore fans. Ever since the International Olympic Committee got the ball rolling in the 1980s by deciding to include baseball in the Summer Games, a small but dedicated group of Russian fans has stayed true to the sport. Today, amid support from athletic programs and the Russian Baseball Federation, green shoots of interest – and talent – are springing up among the nation's youth.
Winds of change
The Soviet Union, keen to showcase the country's sporting prowess at the Olympics, needed foreign coaches to teach its athletes how to play. One of those who made the trip was Bob Protexter, an Iowa native who would eventually found and become the president of Russian International Baseball.
"I was 21 years old in early summer of 1988 and I had just completed my third year of university studies, playing baseball at NCAA teams in Texas and Iowa," Protexter said. "During the summer, I was working in an ice cream factory in my home town of Sioux City, Iowa, and I was also reading a lot about baseball being started in the Soviet Union. It came to me that I'm going to go coach baseball in Russia. And that was it."
Protexter saw Soviet players for the first time that same year when, for the first time in history, a Soviet baseball team arrived in the United States. Playing in Baltimore, a team from the Mendeleev University of Chemical Technology (MKhTI) took on the Johns Hopkins Blue Jays.
In March 1990, Protexter started a new chapter of his life as the coach of the MKhTI team: "We traveled all around the Soviet Union for tournaments and in a very serious team meeting on the first trip of the year in a hotel in Tiraspol, Moldova, the players talked about their want to call the team the Moscow Red Square Devils. It was a consensus that using Red Square and Devils would be unacceptable in Moscow so the team became to be known as the Moscow Red Devils and as MKhTI at the same time, interchangeably," he said.
The year before the U.S. visit, the first Soviet baseball tournament was held in Kiev. "The year was 1987, spring," said Valery Varinsky, who coached the teams at the Moscow Aviation Institute and the People's Friendship University. "Our team, 12 people, traveled from Moscow by train. We did not really know what our uniforms should be like. My team had rugby vests on, fencing pants and some odd caps on our heads."
Interest in baseball waned almost as quickly as it had begun, when the sport was eliminated from the Olympic Games in 2005. Today Russian baseball receives little financial support.
Alexei Rzhevsky, who pitches and plays first base for the Moscow Green Sox, said that Russian baseball players have to really love the sport. "We pay membership fees, buy our uniforms. I pay my own money to take part in the Russian championship."
Yet it isn't a truly national championship. Eight teams regularly participate in the Russian championship series, all of which are based in central Russia, mostly in Moscow. There are also leagues in the Far East and the Urals, but the leagues are not connected. Rzhevsky thinks this is unfortunate. "If the regular Russian championship covered a bigger geographic area, one could expect a dramatic improvement in the players' skills in a couple of years' time," he said.
Back to the future
The situation looks brighter for younger players, however. Sports schools start training new baseball players as early as 6 or 7, and the Russian Baseball Federation provides a stipend for the most promising players until they turn 18.
"Now our kids are becoming European champions at 12, because they come into the sport quite early," said Alexander Nizov a coach at the Balashikha sports school in the Moscow Region. "As in many other sports, coaches are coming into usual elementary schools and talking about baseball there. There is another way. Parents find out about our sport via the Internet and bring their kids [to us]. Adults see that baseball isn't that injury-prone as football or hockey. Also this sport demands the use of your brains and helps kids develop physically."
Baseball training programs in sports schools in Moscow are usually free, although it costs about $400 to provide a new player with a uniform, shoes and a good bat.
Unlike in Soviet times, today's Russian players can easily travel abroad and train with foreign teams and coaches. Since 1992, 11 Russian players have gone on to teams in Major League Baseball. "Any young talented athlete has prospects and a chance to become part of the sporting elite, all the more so if they play baseball. And it does not matter if they come from Russia or anywhere else," said Nikolai Gervasov, the head coach of the Russian national baseball teams.
Bob Protexter lives in the U.S. and travels to Moscow frequently. He believes that Russian baseball could experience a renaissance if it were reintroduced into the Olympics. "Many hope with the new president of the IOC [International Olympic Committee], Thomas Bach, that there may be an opening to be reinstated this year and then baseball could return in the baseball crazy country of Japan [which will host the 2020 Games in Tokyo]. As we say in America; we are keeping our fingers crossed!" Protexter said.
All rights reserved by Rossiyskaya Gazeta.