Russia has always been known for its strongmen. In the early 20th century, Europe was ecstatic about legendary Russian wrestler Ivan Poddubny, who did not lose a single fight in 40 years. In the 1970s, Soviet weightlifter Vasily Alekseyev set 90 world records.
There were impressive achievements in modern Russian history too: In the 1990s, Greco-Roman wrestler Aleksandr Karelin was defeated in just two of his 900 fights. In the 21st century, Russians continue to dominate the world of strength athletics.
Alexei Voyevoda (bobsleigh, arm wrestling)
To the general public, Alexei Voyevoda is best known as a professional bobsledder. At this year's Winter Olympics in his native town of Sochi, he won two gold medals, in a two-man and a four-man event. Voyevoda's other sporting pursuit is less known. However, he is also a very successful arm wrestler.
Voyevoda has three times become amateur world champion and won numerous professional trophies. His nickname of "the world's strongest arms" is, of course, an exaggeration but there is a grain of truth in it too. Voyevoda recalls that at the age of 14 he was already able to lift a Zaporozhets car without a jack.
"I have always wanted to be strong rather than tall or big. I remember a prank I did as a child once. A neighbor of ours parked his car in the wrong place, so I lifted his Lada car, turned it around and put it across the road. He ran out of the house, shouting. We couldn't stop laughing…" (Sport Express newspaper)
Ruslan Albegov (weightlifting)
If a country's strongest man is the weightlifter in the super heavyweight category with the highest personal record, then Russia's strongest man, clearly, is Ruslan Albegov, the reigning world and European champion and a bronze winner at the London Olympics in 2012.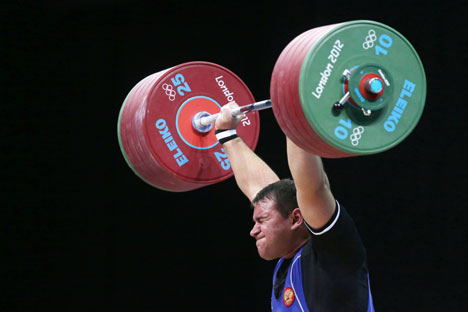 Ruslan Albegov won a bronze medal at the London Olympics. Source: RIA Novosti / Valery Melnikov
At the 2013 world championship in Wroclaw, the 26-year-old native of Vladikavkaz lifted a combined weight of 464 kg. That result would have been enough to claim a victory at the latest Olympics, however, in London, having posted a great result in the snatch, Albegov failed to demonstrate an equally good result in the clean and jerk.
In the end, the 2012 Olympic gold went to Iran's Behdad Salimi. The roots of that disappointing outcome could perhaps be traced back to 2008, when Albegov was conscripted into military service, into the tank corps. Needless to say, there was not much weightlifting training there.
"After two months of military service, I began to fit inside a tank, except that I had to take the helmet off, otherwise the hatch would not close. I was discharged from the army a year later, already a sergeant. Had I not been robbed of that year of my life, I may have had a different [Olympic] medal. When I returned to sport, I weighed 30 kg less than before the army. I spent a whole year after regaining my form. And then another year to improve it." (Argumenty i Fakty weekly)
Mikhail Koklyaev (weightlifting, powerlifting, strength athletics)
In a sense, Mikhail Koklyaev, a native of Chelyabinsk, could be considered a successor to legendary Russian wrestler Ivan Poddubny. Koklyaev, who once was a member of the national weightlifting team, is the only Russian to have won in the most prestigious international strength athletics events: seven victories in the Strongman Champions League; four medals at the Arnold Strongman Classic; three at the IFSA Strongman World Championships; and a victory at the 2005 IFSA World Open.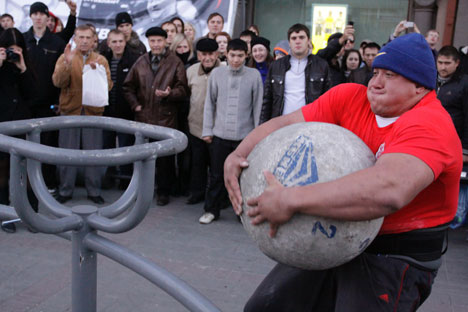 Mikhail Koklyaev won in the most prestigious international strength athletics events. Source: PhotoXPress
This list could have included an Olympic medal, however, in 2003, the Russian Weightlifting Federation did not include Koklyaev on the team going to the world championship, and he subsequently took to drinking.
"In 2004, I had a chance to go to the Olympic Games and become a champion. But I missed that chance, as I did all my prospects in sport. I lost everything to drink. But I was lucky, I managed to quit drinking. Sport and my family helped me to cope with my weaknesses." (www.olympic-weightlifting.ru)
Tatiana Kashirina (weightlifting)
There are some strong representatives of the fairer sex in Russia too. Weightlifter Tatiana Kashirina currently holds all the world records in the super heavyweight (over 75 kg) division: 151 kg in the snatch and 190 in the clean and jerk, 334 kg combined.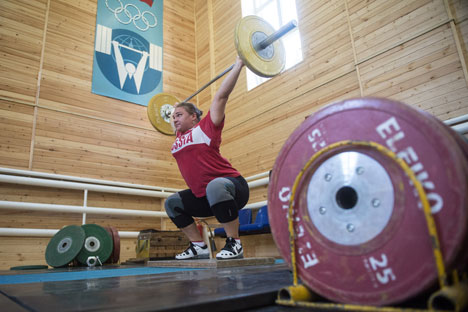 Weightlifter Tatiana Kashirina. Source: Grigory Sysoev / RIA Novosti
She posted the first two results at the season's main tournaments: the 2012 London Olympics (silver medal) and the 2013 world championship in Wroclaw, respectively. It is worth noting that in Wroclaw, Kashirina managed to beat China's Lulu Zhou, who the previous year had snatched the Olympic gold from her in an incredibly close competition.
"It turned out that the weightlifting competition was the third most popular Olympic broadcast in London. When I returned home, people would come up to me in the street to tell me they could not imagine that weightlifting was such a beautiful sport." (Noviye Izvestia newspaper)
Bilyal Makhov (freestyle wrestling)
There are some Russian stars in freestyle wrestling too - primarily 26-year-old Bilyal Makhov from Nalchik. He is three times world champion in the under-120 kg weight category and was a bronze medalist at the London Olympics.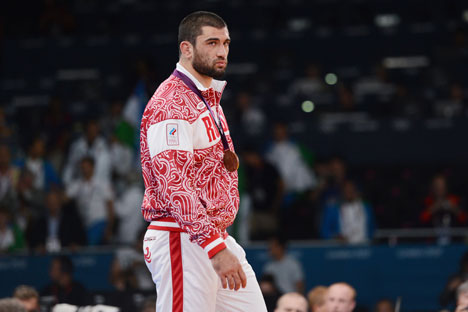 Bilyal Makhov won a bronze medal in the men's 120 kg freestyle wrestling at the XXX Summer Olympics in London. Source: RIA Novosti / Vladimir Baranov
Makhov had been supposed to compete in the 2008 Olympics in Beijing too, however on the eve of the qualifying tournament he suffered mercury poisoning. Furthermore, the correct diagnosis was established only many months later: at first, it was believed to be an ordinary episode of food poisoning.
"I don't want to talk about it. If I do, I would have to make accusations. At the training camp, I ate what everybody else was eating; you see, I myself put the food on my plate. [Had it been the food,] all the other guys would have been affected too. A probe would have tarnished the reputation of people who I care about." (Sovetsky Sport newspaper)
All rights reserved by Rossiyskaya Gazeta.