From the stands for Sochi's first Formula 1 race on October 12, fans will see a vast open space and a thin asphalt ribbon twisting around the architectural marvels of the Olympic Park.
Behind the wheel at more than 100mph, the view is very different. To a Formula 1 driver, the track will resemble a twisting tunnel of concrete walls, where one error of judgment could spell disaster.
Fun at high speed
Last weekend Sochi Autodrom hosted its first race meeting as Russian national championship events took to the track. On-board footage shows a tight, even claustrophobic environment, a far cry from the open, expansive view of the Olympic Park that next month's spectators will enjoy.
The track is brand new, which could make the task of racing on it tricky. The asphalt on a new track is clean, lacking the grippy layer of rubber that is left behind by regular hard racing, as Sebastian Vettel, Formula 1 World Champion and Red Bull team member, pointed out after becoming the first F1 driver to test the track last month.
"There will be very little grip because everything is new, the asphalt is completely new," he said. "It's very smooth. We have high- speed stretches, the main straight is very long. It should be a fun event."
Under starter's orders
The track – one of F1's longest at 19 corners and 5.853km (3.6 miles) – easily passed certification as an F1 venue and was praised highly by race director Charlie Whiting of motorsport's governing body, the FIA.
"Everything is in an extremely good condition. Everything has been done to the highest standards and I'm extremely pleased," the long-serving official said in comments provided to RBTH by the Sochi Autodrom last month.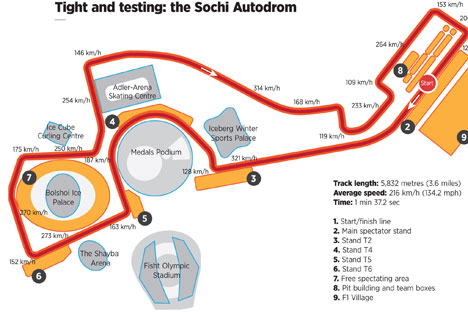 Click to view the infographics
Organisers have been busy training a small army of track marshals, the brave men and women who volunteer their time to ensure the safety of drivers, if necessary moving into harm's way to rescue them from crashed cars. Some of those marshals who will work in Sochi come from Russia's other main international standard racetrack, Moscow Raceway near the capital, whose marshals have been distinguished by their diligence and bravery since that track opened in 2012.
Compared to other tracks Whiting has examined, Sochi has certainly been better organised, especially when compared to the chaotic last-minute preparations that greeted South Korea and India's arrivals on the F1 calendar in recent years.
In part, that success is due to the track's design using elements of access roads from the earlier Olympic Park construction – the legacy was built into the Olympic plans. Of course, some challenges remain for Sochi's organisers – most notably the fact that, other than F1, the track has yet to confirm any other major international series, prompting questions about how it can be funded year-round.
Organisers say that at least 65pc of the 55,000 available tickets have been sold so far for the opening race weekend, which also includes Friday's practice sessions and Saturday's qualifying. Prices range up to 49,000 roubles (£776)) for top-level weekend VIP packages, while standard tickets allow fans the freedom to pick various points around the track to watch the action from. Making the experience easier for the fans will be more than 1,000 volunteers from Sochi and the surrounding area, working as part of a scheme that draws on expertise from the Sochi Winter Olympics' hugely successful volunteering programme.
Racing into the night
If F1 is often compared to a circus, then British billionaire Bernie Ecclestone is its ringmaster. In almost four decades holding the sport's commercial reins, he has survived behind-the-scenes battles with the teams and brushes with the law.
Rising star takes to the grid
Twenty-year-old Daniil Kvyat has the privilege of becoming the first Russian to race in Formula 1 on home soil. The up-and-coming driver from Ufa races for Toro Rosso, the second team of champions Red Bull, and is considered to be one of the sport's brightest young talents. Kvyat has a history of performing well for a home crowd, having won two Renault World Series races on Moscow Raceway's opening weekend two years ago.
He's also raced well in the past on tracks designed by Sochi's architect Hermann Tilke, in particular scoring points this year in China and Malaysia.
Another Russian will appear at Sochi, but not in the race. Sergei Sirotkin, 19, will get his first taste of track time on a Formula 1 race weekend when he appears in Friday practice, Sauber confirmed last week.
After next month's race, his opinion could be crucial to Sochi organisers' hopes of moving their plans to a new level. The race's promoter Sergei Vorobyov wants to hold the race at night – Ecclestone says that the lights on the Olympic arenas would give the race a "fantastic" backdrop – and in the summer, so spectators can combine watching the race with a holiday on Sochi's beaches.
Still, that all remains far in the future. The 2015 calendar is a long way away from being finalised, and much will depend on how successful next month's race is seen to be.
The political dimension
Politics has occasionally loomed large in F1 in the past, notably when the 2011 Bahrain race was called off amid human rights protests, but Russia's race so far seems untouched by broader political issues surrounding western sanctions against the country over the crisis in Ukraine.
Despite rumours that Russia's major sporting events may be cancelled because of the sanctions, the country's authorities show no signs of doubt about the ambitious projects.
One business relationship in particular could be influential – Ecclestone is a personal admirer of Russian president Vladimir Putin.
All rights reserved by Rossiyskaya Gazeta.