Last weekend the Black Sea resort of Sochi hosted Russia's first ever Formula One Grand Prix race. The debut was acclaimed as a success, with famous drivers, journalists and the public lining up to pay compliments to the Russian organizers on their achievement.
Russia's first ever Formula One Grand Prix drew plaudits for its organization and setting, with emotions running high for many fans who witnessed the spectacle at the Sochi Autodrom on Russia's Black Sea coast on Sunday, Oct. 12.
Although rookie Russian driver Daniil Kvyat failed to take the opportunity offered by his best ever qualifying position, coming in 14th despite starting fifth on the grid, the overwhelming feeling was one of positivity for the hosts of the newest addition to the Formula One calendar.
British driver Lewis Hamilton took home the first trophy ever to be won at Russia's F1 Grand Prix, presented to him by Russian President Vladimir Putin, while Hamilton's Mercedes team won the trophy for best constructor.
"I never even imagined that people in Russia are interested in Formula One and that they love it so much," said Hamilton after his win, not hiding his emotions. "It's great to see the thousands of people on the stands. They seem to really be excited to see us."
Most of the people associated with F1, not only Hamilton, were surprised to see how popular racing is in Russia. Chief architect of the Sochi circuit Herman Tilke, when asked if he had expected to see 55,000 people in the stands of the Sochi Autodrom, first said "no" – though he then corrected himself by saying that he had been hoping for success.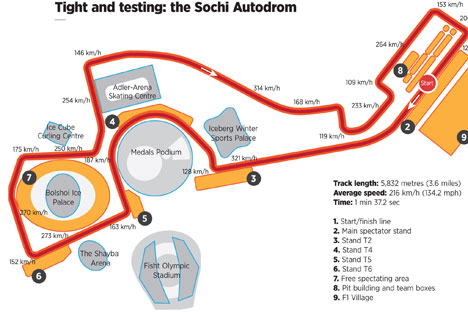 Click to view the infographics
The racetrack - one of the longest in F1 at 5,468 yards - was also praised, as was the level of organization and the views. Organizing a race inside an Olympic park was indeed something very new, and now Formula One CEO Bernie Ecclestone is avoiding questions about whether it would not be better to make the Russian F1 race a night or at least an evening event, so that the stadium's illumination could be better seen. "It's possible," Ecclestone responded tersely when asked, without elaborating.
Olympic experience paid dividends
As far as organization is concerned, Russia did not need much effort to make the F1 Grand Prix in Sochi a successful event. "Most members of our team had worked on the Olympics and Paralympics," says Sergei Vorobyov, F1's Russian promoter. "The transportation was also [already] organized thanks to the Olympic experience."
In terms of dimension and spectator numbers, the F1 race was comparable to the opening and closing ceremonies of the Olympics. Therefore the logistics, security systems and catering organizations were left as they were.
Dreams come true for Russia's F1 fans
Although were noticeably few foreign racing buffs at the Sochi Grand Prix, their places were gladly taken by the Russians who had come to the event from all parts of the country. The prices did not discourage them: from 5,000 rubles ($125) for an open place without seating, to 220,000 rubles ($5,500) in a VIP box.
"How can you miss an event like this?" said Andrei and Maria, two fans who had come to Sochi from Magnitogorsk, a town in the Urals 1,053 miles from Moscow. "The first Grand Prix can only happen once in a lifetime, so spending money on this is no waste. We have been watching F1 on TV for 20 years, we root for Ferrari and never even dreamed of seeing all this at home." Andrei and Maria had spent 100,000 rubles ($2,500) on the event and were strolling about the Olympic Park in their genuinely autographed Fernando Alonso and Kimi Räikkönen t-shirts.
There were many others like them in the stands, people who have been following F1 for a long time with their families and know more about racing than many experts. Some had traveled to see the F1 races in Europe, to Monza, Monaco or the Hungaroring. When asked to compare the organization of the events, they proudly responded, "Ours is better. Everything is new, more modern."
Now repeat the success
TV commentator Alexei Popov agrees with the fans. He has covered Grand Prix races for over 20 years and it is partly thanks to him that the sport is so popular in Russia today. Popov has been to all the Grands Prix in the world and says without hesitation that the Sochi race is "the best."
"This is the most astounding debut in all the 23 years that I've worked with F1," says Popov. "Perhaps no one believes us when we praise ourselves, but I'm being completely honest. In terms of organization, only Abu Dhabi and Bahrain can compare to Sochi. The only difference is that they had to have 3-4 races before improving and reaching this level, whereas our race was fantastic from the first time."
However, Popov points out that hosting the maiden Grand Prix was the easy part – the biggest challenge will be maintaining that success: "Now we only hope that nothing goes wrong the second time," he says. "The second year will be the most difficult. What if no one comes? Or the organizers lose their determination?"
Russians will have time to think about the next F1. Especially since the success of the 2015 Grand Prix will depend not only on the organizers. A week ago it was announced that Daniil Kvyat is replacing four-time champion Sebastian Vettel at Red Bull. This means that Russian fans, along with their driver, their team (Marussia operates with a Russian license) and domestic racing, now have a real hope of getting, if not a world champion, at least a racer capable of winning one of the Grands Prix. And this will attract spectators more than any commercial. The story of Russia and Formula One is just beginning.
All rights reserved by Rossiyskaya Gazeta.