Remembering Russian tennis's glory days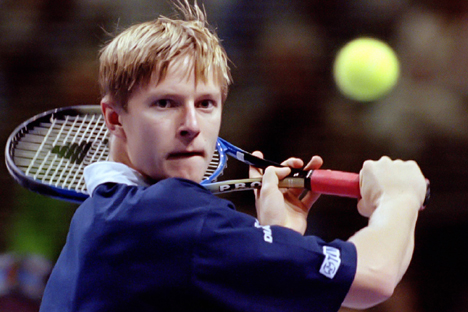 Russian Yevgeny Kafelnikov during a match of the ATP Tour world championship in Frankfurt. Source: Reuters
Moscow's Kremlin Cup became the symbol of Russian tennis success in the 1990s. As other sports struggled to adapt to post-Soviet realities, tennis professionals took the most of the Yeltsin-era opportunities.
This week, the Kremlin Cup, Russia's premier tennis tournament, celebrate its 25th anniversary on the men's ATP world tour. The occasion was marked with a brief on-court ceremony. The tournament, which added a WTA women's tour event in 1996, has attracted some of tennis' biggest names in its quarter-century of existence. Serena Williams, Andy Murray and Martina Hingis have all played on the indoor hard courts of Moscow's Olimpiisky arena. And of course the Cup offers something special to Russian players. "I've always tried to play every tournament," said former world No. 3 player Nikolay Davydenko, who won the Kremlin Cup three times.
The devotion of Russian stars has helped the Kremlin Cup overcome one of its major challenges – its place in the tour schedule. By October, many top players have already qualified for the end-of-season tour finals and prefer to rest instead of traveling to Moscow.
This year, the Russians again are out in force. Two-time Grand Slam winner Svetlana Kuznetsova is on the court, former star Elena Dementieva coaching, and Davydenko, was there to announce his retirement at age 33.
Poignantly, Davydenko said he had wanted to retire earlier because of injuries but that the urge to keep going was almost an addiction. "We tennis players are the kind of people who, when we wake up, think that we have run, to train," he said. "I hope that after today I'll wake up without any nightmares."
Incompatible with Soviet ideology
Russia's success is a tennis nation is all the more surprising considering that as recently as 30 years ago it had almost no tennis tradition. The loose structure of the tennis tour, with independent professional players traveling the world playing in whichever tournaments they choose, was anathema to the Soviet government's instinct to keep its sports stars under tight state control. And as for Soviet tennis pros getting rich off prize money – that certainly didn't fit with Marxist-Leninist ideology.
The result was that during the Cold War years, the Soviet Union was left behind even other East European countries embraced the sport. As Romania celebrated Ilie Nastase, and Czechoslovakia churned out legends of the court such as Martina Navratilova and Ivan Lendl, Russian fans had to console themselves with what might have been when Olga Morozova lost in the finals of the French Open and Wimbledon in the summer of 1974.
Rising from the ashes
But as Russia pitched into the chaos of the 1990s, a curious thing happened to Russian tennis. Suddenly, it was one of the few things in Russia that was improving. Many Russian sports struggled to adapt to a new era while still under the control of sports federations designed by the Soviet state, but Russian tennis players were finally free to fully embrace the independent life of a touring tennis pro.
Additionally, talented young Russian players were for the first time able to hone their talents at top academies in the U.S. and Europe. In 1994, Marat Safin, moved to Spain at the age of 14 to study advanced training techniques not yet available at his home club in Moscow. Six years later, he was the world No. 1.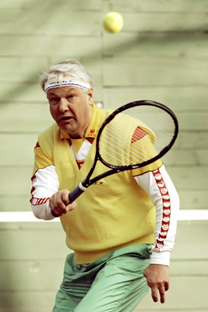 Boris Yeltsin on the court. Source: Dmitry Donskoy / RIA Novosti
Paradoxically, in a time of poverty in Russia, tennis' global image as a game of the affluent middle class proved a boon. The new crop of Russian businessmen and politicians had vast influence and money, but many craved class. What better way to improve their position in society than to take tennis lessons? At the head of this new group of moneyed tennis fans – who began to sponsor Russian players and cover the cost of their expensive coaching, was no less than Russia's first president, Boris Yeltsin, an avid player.
Fourteen years since Yeltsin was first pictured playing tennis, his widow Naina still oversees a fund in his name handing out lavish bursaries to young players who, more often than not, come from the post-Soviet middle class.
New talents needed
This century, Russia has produced a steady stream of top players. French Open winner Anastasia Myskina and 2008 Olympic gold medalist Elena Dementieva both trained in Moscow. Russia's arguably most famous player, Maria Sharapova, is the exception – she moved to Florida at the age of eight.
Today, however, there are worries that the flow of new talent may be slowing. In the men's game, Russia has all but vanished from the elite, with its top-ranked player world No. 30 Mikhail Youzhny. Russian Tennis Federation head Shamil Tarpishchev (Yeltsin's former coach) blames a shortfall in funding for his organization, which gets by on money from mostly government-connected sponsors.
Still, the dream lives on. It just needs the right support, as Davydenko argued Thursday while discussing his nephew Filipp's potential. "If there are people around who can draw [the potential] out, who can help, then everything will work out for him."
All rights reserved by Rossiyskaya Gazeta.