British press on 'Brother Williams' scandal with Russian tennis chief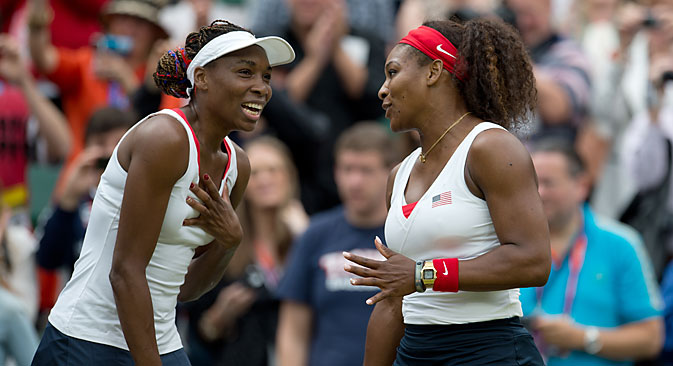 Williams at the Olympic Games in London, 2012. Source: DPA / Vostock Photo
A row erupts over politically incorrect comments made on TV by Russian tennis chief Shamil Tarpischev. Having watched the show, Nikolai Gorshkov wonders what all the fuss is about.
The row over a gauche TV gag about Serena and Venus Williams by Russian Tennis Federation president Shamil Tarpischev questioning the gender of Serena and Venus Williams has whipped up a storm of press coverage.
The tempest was sparked after a humorous Russian TV chat show when the tennis guru referred to the great tennis sisters as "brothers". As a result Mr. Tarpischev has been fined $25,000 by the Women's Tennis Association and banned from any involvement with the women's tour for a year. And although the WTA published a letter of apology from Mr. Tarpischev, the chorus of indignation continues.
Soviet style denunciation
The Telegraph quoted Women's Tennis Association (WTA) chief executive Stacy Allaster as saying that "Mr Tarpischev's statements questioning their genders tarnish our great game and two of our champions." Now, I would have thought that all genders are equal and suggesting that a particular gender can be questioned is actually demeaning to that gender. On the other hand, since there are mixed couples games why are there no male vs female singles? Wouldn't that be true gender equality?
It's unclear if any world tennis officials have actually watched the TV show or have good enough Russian to understand the subtlety of what Mr. Tarpischev actually said. As Soviet cant concerning denunciations once had it: "We haven't read the book, or seen the film but are appalled by their demeaning remarks and demand the maximum penalty for the perpetrators of such hatred towards the people". Total, unquestioning obedience to the Party line was expected, and demanded.
The International Olympic Committee, of which Mr. Tarpischev is a member, has taken a more sensible position before deciding whether to impose any sanction on him. The Guardian reported IOC remarks: "The IOC will directly contact Mr Tarpischev to ask him for a full explanation of his comments."
Merciless humour
Having seen the show, it is apparent the 'brothers' quip was provoked by the anchor at the show, Nightly Urgant, who is known for sailing too close to the wind, just like the hosts of irreverent news shows worldwide. Have I Got News For You was merciless with former British Deputy Prime Minister John Prescott, always teasing him about his alleged gargantuan appetite. Adding "allegedly" was its "magic" defence against any potential libel accusations.
A few years ago, the BBC suspended popular entertainment show host, Jonathan Ross after he and comedian Russell Brand made a vulgar, sexually explicit telephone prank call to an elderly actor, Andrew Sachs. The stunt sparked dozens of complaints from the public and no other than then Prime Minister Gordon Brown. But such is the allure of cheeky shows that when the Friday Night With Jonathan Ross eventually returned to the small screen it drew a record 5.1 million viewers.
Guests on such shows are under huge pressures to match the repartee of their hosts.
Scary looks
The Mail Online highlighted Mr. Tarpischev's remark that the Williams sisters were "scary to look at". The Guardian quotes Serena Williams dubbing the remark "sexist, racist and bullying".
In his apology to the WTA Mr. Tarpischev insists his TV show comments were intended as a good-natured joke and he has "the greatest admiration for the Williams sisters, who are among the greatest athletes ever to compete in our sport." Indeed, in Russian to say that somebody is a real "man" is a huge compliment. For comparison, think how odd to a Russian ear the English expression of highly positive regard, "I cannot recommend this person highly enough," sounds. But perhaps in this case the expression was ill-used and it was not really a compliment but simply a thoughtless joke?
Tarpischev adds: "I understand now that my remarks were wrong and could be construed as discriminatory by the public. That was not my intention but I recognise that I need to make a full apology to the tennis family and especially to the Williams sisters."
To any unbiased observer who has watched the show and understood the language Mr. Tarpischev's phrase was just a joke in keeping with the show's format. But the reaction of the press reveals that in the current political climate any Russian official is fair game, particularly when it pays. It makes me wonder how much money the Russian President could earn for his country if he fined every Western public figure who uses much more loaded language about him than "sister Putin"? Or can we suspend them from world politics until they apologise?
The opinion of the writer may not necessarily reflect the position of RBTH.
All rights reserved by Rossiyskaya Gazeta.