Russian figure skaters make their mark at Skate America in Chicago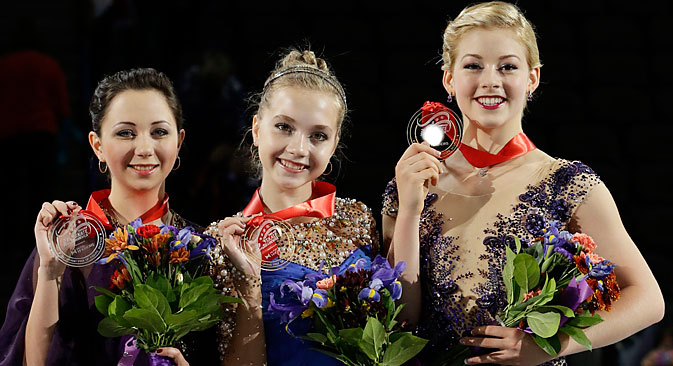 Elena Radionova (center), Elizaveta Tuktamysheva (left), and Gracie Gold pose for photographers with their medals for the ladies skating program at the Skate America figure skating event. Source: AP
The new figure skating season kicked off with the first stage of the Skate America Grand Prix in Chicago on October 24-26. Interestingly, new names have come to the forefront while the stars of the Sochi Winter Olympics have remained in the shadows.
The post-Olympic year in figure skating is always peculiar – somewhat predictable, but still interesting. Some athletes end their careers after the Games, while others try to make a name for themselves or reclaim their place among the elite. Some pairs part ways, while others heal their injuries with an eye to getting in shape for the next Olympics.
The first stage of the Skate America Grand Prix, held in Chicago on Oct. 24-26, further developed the intrigue of the unfolding new Olympic cycle. In all disciplines, with the exception of men's singles, the Russians made their mark in Chicago, with skaters both young and old impressing onlookers.
Singles
Two Russian figure skaters fought for the lead in the singles tournament – 17-year-old Yelizaveta Tuktamysheva and 15-year-old Yelena Radionova, who scored her first victory at an adult Grand Prix. Last year, newcomer Radionova placed third in the American stage, second in Japan, and a respectable fourth in the finals, in the company of the strongest athletes.
Seen as a future Olympic hopeful, Radionova was invited to demonstrate her skills at the Sochi Winter Olympics as the only two-time world champion among the junior figure skaters. Despite her youth, Radionova is already being compared with the brilliant Carolina Kostner.
"Carolina is my idol. I really like her skating," Radionova said after Skate America. "We worked a lot on gliding this summer. I tried to make my skating light and elegant like hers, and I'm very glad that it's noticeable."
Tuktamysheva, who came second in Chicago, performed poorly last season and did not make it to Sochi. She is doing better this season, winning three starting warm-up tournaments in 2014.
"Liza had a two-year transition period, a spinal injury and an ankle injury," said Tuktamysheva's coach Alexei Mishin on the budding athlete's return. "But summing up the results of Liza's five performances this season, I can say that Tuktamysheva has returned to the circle of the world's strongest figure skaters," he said.
Pairs
Even though Russian pair skaters Yuko Kavaguti and Alexander Smirnov had no serious competitors in Chicago, their victory was no less deserved or significant. The pair brilliantly and soulfully skated their short program and executed a highly difficult element in their long program – the quadruple-throw Salchow.
Kavaguti and Smirnov, who were unable to compete in the Sochi Olympics due to the latter's injuries, have entered the new Olympic cycle. In theory, they should be setting ambitious athletic tasks for Pyeongchang 2018, which will represent their last chance for glory.
However, Kavaguti has said in an interview that she and her partner are not sure whether they will compete in the Olympics. This could be because of Smirnov's age – he turns 33 on November 20.
Another pair – Olympic champions Tatiana Volosozhar and Maxim Trankov – are still struggling with injuries. The pair were supposed to compete in Chicago, but they had to skip the series because of problems with Maxim's shoulder, which have hindered the pair from preparing for the season.
Dancing
The 2013 world junior ice dancing champions Alexandra Stepanova and Ivan Bukin took the bronze medal at Skate America. This was their first medal in the adult stage of a Grand Prix. Despite only getting bronze and committing errors on their unique twizzles, Stepanova and Bukin received glowing reviews from ice dancing experts, said coach Irina Zhuk.
"There is so much talk here about our twizzles in the shoot-the-duck position! Of course, they lost a lot of points because the judges had a problem with the execution, but on the whole they made a splash. All the experts were thrilled by them," Zhuk said.
Another Russian ice dancing pair – Ekaterina Bobrova and Dmitry Soloviev – will enter the season later because of injuries to Soloviev.
But expectations are highest surrounding two pairs that have undergone a reshuffle. Sochi Olympic bronze medalists and team winners Elena Ilinykh and Nikita Katsalapov switched partners with Victoria Sinitsina and Ruslan Zhiganshin. Sinitsina and Katsalapov are coached by Marina Zuyeva, who trained two North American pair champions. Ilinykh and Zhiganshin are training in Russia.
All rights reserved by Rossiyskaya Gazeta.