Sharapova wins Brisbane title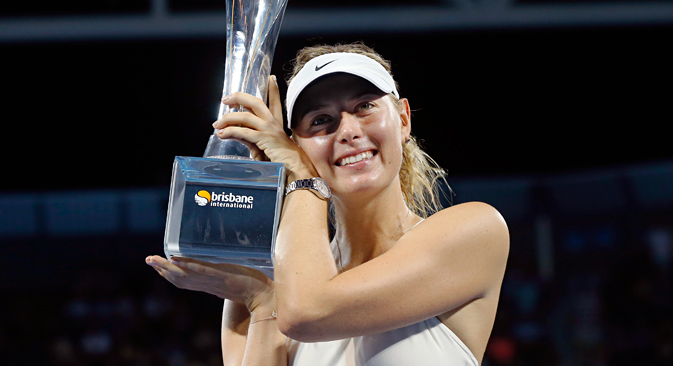 Maria Sharapova holds the Brisbane International tennis tournament women's singles trophy after defeating Ana Ivanovic of Serbia in Brisbane, January 10, 2015. Source: Reuters
The Russian tennis star won her first tournament this year with a victory over Serbia's Ana Ivanovic.
Russia's Maria Sharapova, 27, has won her first tournament of the year, the Brisbane International. She defeated Serbia's Ana Ivanovic in three sets (6-7 (4:7), 6-3, 6-3) to claim the $1 million purse.
Speaking after her victory in Brisbane, Sharapova said that she viewed the tournament as a dress rehearsal for the first Grand Slam of 2015, the Australian Open, which begins Jan. 19 in Melbourne.
"I played four good matches against very different types of opponents and am very pleased with my performance," Sharapova said after her win. "I won a tournament, but I am not at all focusing on going higher in the rankings. My goal is to win as many games as possible, then my ranking will be high. As for the victory in Brisbane, it is an excellent preparation for Australian Open." Sharapova is currently ranked number 2 in the world.
Well known Russian coach Viktor Yanchuk attributed Sharapova's victory to dedication and hard work. "Her victory was to be expected; she had to beat Ivanovic. She is a better player, and she is stronger psychologically. Last year, too, Maria showed some very good qualities in her game. She is very honest and conscientious about training and she is ambitious. She seeks new victories and achievements and she succeeds. It is great that she has started the year on such a high note," Yanchuk said in an interview with R-Sport news agency.
Yevgeny Kafelnikov, the vice-president of the Russian Tennis Federation and a former world number 1, is confident that Sharapova is up to winning the Australian Open. "Speaking from personal experience, I can say that a victory in any tournament is always a very pleasant and important thing for any player, preparing them for the next event to come. The triumph at Brisbane should make Sharapova feel great and boost her confidence ahead of Australian Open. She has every chance of winning there too," Kafelnikov told Russian daily Izvestia.
The win in Brisbane is Sharapova's 34th WTA singles title. Additionally, Sharapova has won at least one title in the past 13 seasons.
This article was combined from reporting in Izvestia and R-Sport.
All rights reserved by Rossiyskaya Gazeta.