Four Russian hockey players selected to NHL All-Star team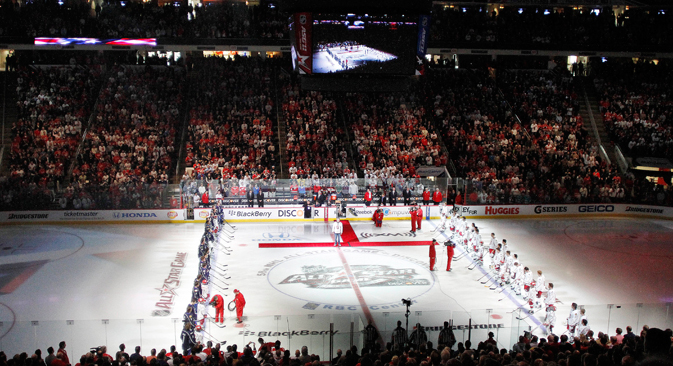 Clay Aiken singes the national athem before hockey's NHL All-Star Game on Sunday, Jan. 30, 2011, in Raleigh, N.C. Source: AP
Ovechkin leads crew of Russians chosen to play in NHL All-Star game on January 25 in Columbus, Ohio.
On Jan. 25, Washington Capitals winger Alexander Ovechkin will play in the NHL All-Star Game for the sixth time in his career. It marks the fifth NHL All-Star Game selection for Pittsburgh Penguins center Evgeni Malkin, while Columbus Blue Jackets goalie Sergei Bobrovsky and St. Louis Blues forward Vladimir Tarasenko were chosen for the first time in their careers.
The Russian team has not had so many selections to an NHL All-Star team since 2009, when Alexei Kovalev, Andrei Markov, Ilya Kovalchuk, Malkin and Ovechkin competed in Montreal.
The fact that these four Russians made the cut for the 2015 All-Star team comes as no surprise. Take, for example, 23-year-old Tarasenko. He scored 43 points (21 goals and 22 assists) in 64 games in 2013-14, and this season he has already broken his personal record, scoring 47 points (24 goals and 23 assists) in just 43 games.
Nicknamed "the Russian Tank" overseas, Tarasenko is considered the most important discovery of the season. In some matches, his game is simply amazing. Sports Illustrated crowned his goal against the Rangers as the top NHL goal of 2014.
Source: Youtube/NHL
In a sense Tarasenko has held a trump card from the very beginning because his father was his coach. He trained during his childhood years and at the Sibir Hockey Club in Novosibirsk under Tarasenko Sr.'s guidance. Tarasenko Jr. made his professional debut at just 16 years old.
Tarasenko has improved his skill set year after year while overcoming challenges. He has already endured an unsuccessful Olympic run, a Hockey World Cup tournament where the young forward spent much time on the bench, and an injury before the first NHL playoff of his career. St. Louis coach Ken Hitchcock has said many times that Vladimir practices more than the other players, zealously spending time perfecting even the most basic skills.

Malkin and Ovechkin haven't had to endure as many challenges on their paths to success. It is fair to say that they are perhaps two of the three greatest hockey players of the last 10 years, along with Sydney Crosby.
Source: Youtube / Jeff Veillette
Experts say that Malkin is in the best shape of his career, comparable to the 2011-2012 season when he won the NHL's premier prizes for individual performance. This year, the 28-year-old Malkin has already scored 51 points (19 goals and 32 assists) and according to the NHL's official website based on this half-season's results, he is the favorite to win the Hart Memorial Trophy for most valuable player.
Unfortunately on Jan. 21 it was reported that Malkin had sustained an injury to his lower body. Although the injury is not believed to be too serious, he is out indefinitely and will miss the All-Star game.
Alexander "The Great" Ovechkin has changed his game and is now scoring more points for the Washington Capitals. In 2014, when his team failed to make the playoffs, the 29-year-old forward scored 51 goals and won the Richard Trophy for leading scorer. However, Ovechkin's overall rating, which measures a player's goal differential, was poor at -35. With the arrival of new head coach Barry Trotz, this season the winger has scored 27 goals in 46 matches, making him the third leading scorer overall. Most importantly, Ovechkin's rating has shot up to +12.
Twenty-six-year-old Bobrovsky's current season statistics (30 games, 1 shutout, 2.88 goals an hour) are not as strong as in 2013-14. Yet, Bobrovsky remains one of the fiercest goalies in recent seasons and received the Vezina Trophy for best goalkeeper in 2013. Recently, Columbus expressed their faith in him by signing a four-year $29.7 million contract extension, keeping him in Columbus until 2019. Only one goaltender, Henrik Lundqvist at $8.5 million per year, earns more in a season.
Source: Youtube / NHL
Regrettably, on Jan. 21 Bobrovsky suffered the same fate as Malkin suffering a lower body injury, the second time he has been hurt this season. His status in the All-Star game was uncertain as of Jan. 22. His absence would surely disappoint the hometown fans in Columbus.

Reference: The 42 players scheduled to compete in the NHL All-Star Game will later be divided into two teams. Six were added to the team during online voting among hockey fans at the beginning of January. The rest were chosen by league officials.
All rights reserved by Rossiyskaya Gazeta.