Russian hockey referee hired by NHL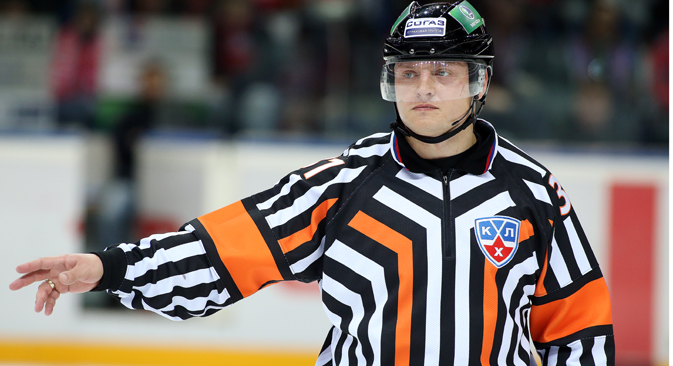 Evgeny Romasko a new regular referee in NHL. Source: Yaroslav Neepov / RIA Novosti
Romasko becomes first Russian to officiate at a regular season game.
Russian hockey referee Evgeny Romasko has become the first Russian referee in NHL history after officiating a regular season game between the Detroit Red Wings and the Edmonton Oilers, according to the International Ice Hockey Federation official website.
Romasko is only the second referee from Europe to be the main referee of a NHL game. The first was Sweden's Marcus Vinnerborg, who officiated a game in 2010.
NHL officials said that Romasko will be in the regular referee rotation in the future. "[Romasko] is one of those guys that the scouts unanimously said has it. And his good skating gives him real presence in the game. We had our guys watch him quite closely. He had some pro experience, he wasn't a guy coming from junior hockey. Our scouts decided 'let's get him on a minor-league contract and watch him a little closer, and we can begin the process of him working for us on full-time basis.' We got through that, and then he just had to go out and perform," said Stephen Walkom, NHL senior vice president and director of officiating, according to the official NHL website.
Russian hockey player Igor Larionov who previously played for the Red Wings said that Romasko's achievement is a major success for Russian hockey in general. "I am happy [Romasko] will work in the NHL," said Larionov, who participated in the negotiations between the Russian referee and the NHL. "It's a huge step for Russian hockey. [Viacheslav] Fetisov and I worked hard to open a way to NHL for Russian players. Now Romasko has opened this way for referees too. It's a big step in history."
Larionov added that he is glad that politics didn't affect the appointment, given the current state of relations between Russia and the United States. "It proves another time that sport is above all the politics and that only professionals are working in NHL," he said.
Famous Russian referee Yury Zaytsev compared Romasko's success to manned spaceflight. "The first Russian referee in the NHL is a historical event, on the same scale as the flight of Yury Gagarin in space," Zaytsev said in an interview with Russian news agency RIA Novosti. "Who knows, maybe Romasko is the first one, but he will set an example and other Russian referees will try themselves in the U.S."
Based on materials from NHL official website, RIA Novosti and TASS.
All rights reserved by Rossiyskaya Gazeta.