Russia's sporting stars: Who has the biggest advertising deal?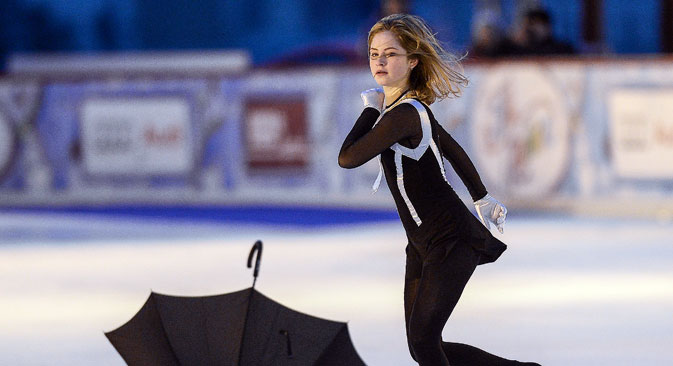 Olympic figure skating champion Yulia Lipnitskaya. Source: Alexander Vilf / RIA Novosti
Despite her recent setbacks on the ice, young Russian figure skater and Sochi gold medallist Yulia Lipnitskaya has become one of the faces of Adidas, starring in a new commercial by the German sports company. By doing so she is following in the footsteps of a number of other Russian sports stars, including fellow skater Adelina Sotnikova, tennis star Maria Sharapova and pole-vaulter Yelena Isinbayeva. But who earns the most from product endorsement?
AnOlympic champion in the team skating competition at Sochi, 16-year-old Russian ice skater Yulia Lipnitskaya has signed a sponsorship deal with Adidas and starred in the company's commercial. According to a press release by the company, the talented skater admitted that it was her first such cooperation and that she is looking forward to successful collaboration in the coming season.
Lipnitskaya: will and charisma
The post-Olympic year was not a memorable one for Lipnitskaya – fifth place in the final Grand Prix in Barcelona, ninth position in the Russian Championship in Sochi and a resulting lack of a pass to the European Championship. Other Russian figure skaters are now the talk of the town – current World and European Champion Yelizaveta Tuktamysheva, current Russian champion Yelena Rodionova, and Russia's first Olympic champion in women's individual skating Adelina Sotnikova. However, it is Lipnitskaya whom the German company has chosen.
"What plays an important role for us is the character; we have offered cooperation to Yulia, seeing how she copes with difficulties," the head of the publicity department of the Russian branch of Adidas, Nikolai Petrosyan, told RBTH.
"We are impressed with diligence of the girl and her passion for sports. She's a really strong-willed athlete and concentrated on the result," said Petrosyan. "We are convinced that Yulia Lipnitskaya is able to inspire people with her talent and charisma – many young people will want to learn from her desire to improve." He pointed out that the Adidas commercial starring Lipnitskaya has already seen overwhelming success (the clip has already been viewed by more than 3 million people on YouTube), which means that "she is really close to people."
Yulia Lipnitskaya - Adidas. Source: YouTube
Adidas' top endorsers include basketball player Derrick Rose and soccer player Lionel Messi.
Sotnikova and Sharapova: elite club
The rivalry between Lipnitskaya and another Russian figure skater, Adelina Sotnikova, continues beyond the ice. Immediately after her triumph at the Olympics in Sochi, Sotnikova signed a deal with Adidas' main competitor, U.S. company Nike. According to Sotnikova's manager, Ari Zakarian, the deal shows her current position in the sports industry: "The Americans only work with real stars, it is a totally different weight class."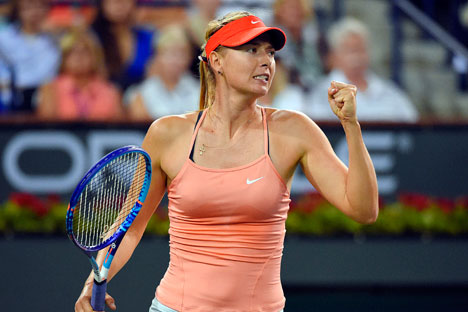 Maria Sharapova. Source: AP
Many of the richest athletes in the world have contracts with Nike: Roger Federer ($56 million in 2014), basketball players Kobe Bryant ($62 million) and LeBron James ($72 million), soccer star Cristiano Ronaldo ($80 million), and the world's highest paid female athlete – Maria Sharapova.
According to Forbes, Sharapova earns about $29 million a year on advertising contracts (2013). The athlete receives about 5-6 million euros ($6-7 million) from Nike. For comparison, Sharapova's total prize winnings on court in the period from June 2013 to July 2014 amounted to just $2.3 million.
Sharapova - Nike Commercial 'I feel pretty'
Russian hockey player Alexander Ovechkin has a different way of earning income. In January 2008, the superstar signed a 13-year, $124 million contract with the Washington Capitals, becoming the first player in NHL history to enter into an agreement for more than $100 million. At the same time, Ovechkin earns quite modestly on advertising – $5.5 million per year. Out of this sum, $3 million comes from Nike.
Isinbayeva: pivot to the east
The world record holder in the pole vault, Olympic champion Yelena Isinbayeva, was reportedly unable to reach terms with the giants of the market, Nike and Adidas, but still found a sports sponsor. In 2009, the athlete signed an unprecedented contract for athletes with the Chinese sportswear manufacturer Li Ning. Under the agreement, Isinbayeva was to receive $1.5 million a year for five years.
All rights reserved by Rossiyskaya Gazeta.