Russian synchronized swimmers secure participation in the Rio Olympics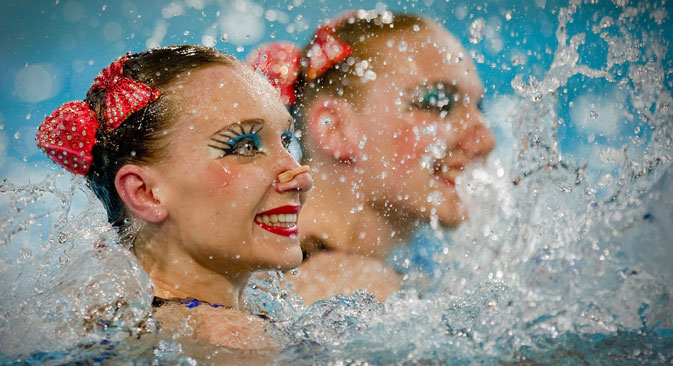 For Natalia Ishchenko it was the first official event since she took maternity leave. Source: EPA
Olympic champion Natalia Ishchenko returns to world class sports after giving birth.
Russian synchronized swimmers have qualified for the 2016 Summer Olympics in Rio de Janeiro, Brazil, winning competitions in duet and group at the recent European Cup held in the Netherlands.
For three-time Olympic champion, 16-time World Champion and nine-time European champion Natalia Ishchenko, it was the first official event since she took maternity leave.
Natalia gave birth to a son named Semyon in November 2013. With her partner Svetlana Romashina, Ishchenko won both technical and free programs, scoring a total of 190.9404 points for two performances. The athletes surprised audiences both with their spectacular performances and their costumes, appearing as gypsies and aliens. Anna Voloshyna and Lolita Ananasova of Ukraine took second place in the European Cup (185.1922), while Ona Carbonell and Paula Klamburg of Spain came third (182.7008).
"The main intrigue was the return of Natalia Ishchenko and two new programs of our duet," three-time Olympic champion Olga Brusnikina said in an interview with the news agency R-Sport.
"There are few examples of team members returning after giving. It takes enormous effort - both moral and physical. I think that she proved able to do it. Our Olympic duo is now in good shape."
Russians excelled also in the group exercises – the team of Svetlana Kolesnichenko, Alexandra Pastkevich, Anzhelika Timanina, Alla Shishkina, Marina Shurochkina, Vlada Chigiryova and Yelena Prokofyeva took first place, ahead of the teams of Ukraine and Spain.
Olga Brusnikina believes that the coming World Aquatics Championships, to be held in Kazan in summer, has even more to offer to specialists.
"I am sure that we will see all the surprises at the World Championships," she said.
"Our team decided not to show all the secrets. And I am sure that the competitors did not disclose all their cards either. Many decided not to show new programs, and will be finalizing some things."
All rights reserved by Rossiyskaya Gazeta.