Moscow yogis unite in 108 sun salutations for the summer solstice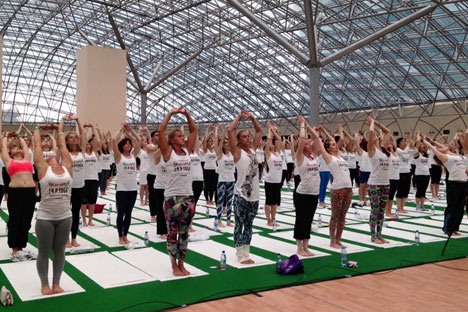 The fifth annual yoga marathon, hosted by Yoga Journal. Source: Press photo
On International Yoga Day, the Russian version of Yoga Journal hosted a "yoga marathon" bringing together yogis and instructors of different styles for a good cause.
On June 21, Moscow yogis celebrated International Yoga Day with a "yoga marathon" of 108 sun salutations. The annual event, hosted by the Russian version of Yoga Journal for the fifth time, is also a fundraiser. Yogis registered on the yoga marathon website and asked people to sponsor their participation in the event. This year's marathon raised $18,000, which will be used for spinal surgeries for four sick children.
"Marathons like these are held all over the world," said Yoga Journal representative Ekaterina Batayeva. "What makes the Moscow one different is that at the end we have a gong meditation."
The magazine, which celebrated its 10th anniversary this spring, recently completed a wide-ranging survey about the practice of yoga in Russia. The survey showed that a variety of yoga styles are popular in Russia, but that "American and European instructors teach more flow sequences, vinyasa, whereas Russians prefer classical yoga."
As part of the yoga marathon, Yoga Journal invited 10-12 top yoga instructors to lead a portion of the sun salutations in their preferred style.
Lawrence Jay, the Canadian founder of Urban Yoga Studio in St. Petersburg, led a series of salutations in the flow yoga style. Jay said he participated in the event because he has a mission to "spread yoga to people" and wanted to "be a part of something special."
Jay opened his studio in 2013 after a Russian couple he met in Bali invited him to visit the city.
"Back in 2010, when I was living in Hong Kong, I sat down and made a 'dream board,' cutting out pictures from the magazines," Jay said. Dream or vision boards help people fulfill their dreams by visualizing them either by putting images and words physically on a board or through a web app.
"One article I came across had the title 'Yoga Behind the Iron Curtain.' I cut it out and pasted it on [the board]. Almost a year later, when I was teaching on the island of Bali, a Russian couple invited me to St Petersburg for the summer."
According to Batayeva, the number of people teaching yoga in English in Russia is on the rise. "Yoga teaches one to maintain one's focus," Batayeva said. "That is why it is becoming increasingly popular among top managers, many of whom are expats."
Jay teaches not only in English but in Russian, too. "My approach is to step into each room, no matter where, and see people as they are, in that moment," he said. "Teaching in a new language limits me in moments, but I think those limits are an advantage. This keeps me clear and simple, yet humble. I love it."
All rights reserved by Rossiyskaya Gazeta.