Russian boxer to enter British ring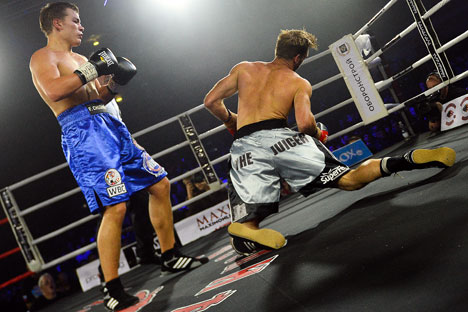 Russian Fedor Chudinov (L) in a fight with Australian Ben Mcculloch. Source: Vladimir Astapkovich / RIA Novosti
Fedor Chudinov signs a three fight TV deal with BoxNation.
British television channel BoxNation has signed a contract for three fights with Russian boxer Fedor Chudinov.
The boxer will defend his WBA world champion supper middleweight title against Britain's Frank Buglioni, the current WBO European champion in the first fight July 24.
Chudinov, who weighs in below the supper middleweight 76.2kg limit, will slug it out at London's famous Wembley Arena.
The contest is the first in a series set up by BoxNation.
Chudinov's promoter Vladimir Khryunov told business daily Kommersant that it was likely that BoxNation became interested in the Russian boxer after his championship title fight in Berlin last month.
Khryunov called the fight, in which Chudinov fought the favorite, German boxer Felix Sturm on the day Russia's marks as Victory Day, the "May 9 miracle."
Fights set up by television stations are common in professional boxing. Top U.S. pay TV network HBO has a policy of signing interesting boxers for long periods. It currently has a contract with outstanding Ukrainian heavyweight Vladimir Klitschko and several other superstars. Boxers are keen to take part in such contests as the TV channels put up the prize money.
Neither BoxNation nor Khryunov have disclosed the value of the current contract or the prize fund. But the promoter stressed that the figures were "comparable to those operated by HBO" - which has deals counted in the "hundreds of thousands of dollars."
Khryunov added that he anticipated further deals with BoxNation, which he says had already drawn up a pool of fighters. He said the channel might be launched in Russia, where he believed it would have good prospects.
"BoxNation has a huge package of broadcasting rights and archive of matches."
First published in Kommersant.
All rights reserved by Rossiyskaya Gazeta.