The world's first European Games close in Baku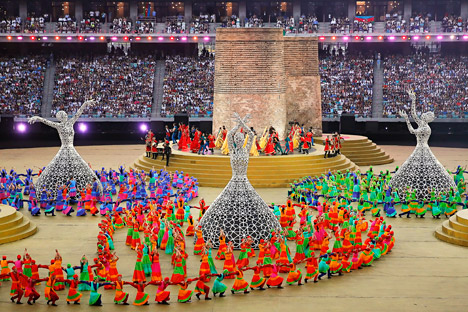 Dancers perform during the closing ceremony of the Baku 2015 European Games at the Baku Olympic Stadium in Baku, Azerbaijan, 28 June. Source: EPA
The first European Games in history took place in the Azerbaijani capital between June 12 and 28.
The first-ever European Games, bringing together athletes from the European continent, closed Sunday with a ceremony at the Olympic Stadium in the Azeri capital, Baku. The Games - now due to be repeated every four years - took place from June 12 to June 28.
Russia topped the medals tables, taking home 79 gold, 40 silver and 45 bronze medals. Host nation, Azerbaijan, took second place with 21, 1 and 20 respectively, ahead of the UK (18-10-19). Germany was fourth (16-17-33), France the fifth (12-13-18), and Italy sixth (10-26-11).
President of the European Olympic Committee Patrick Hickey, whose brainchild the continental games were, said Sunday he was convinced that the first European Games will be followed by a second and third.
His bullish comments come after the Netherlands refused to host the next games in 2019, as had been originally planned. According to Vesti.ru, the Dutch government has refused to support the initiative of its national Olympic Committee.
Talks on hosting the 2019 European Games are under way with at least three potential candidates, Vesti added, quoting Hickey as saying: "We want to preserve a geographic balance in terms of hosting the games, with eastern and western countries taking turns as hosts."
Hickey says of five remaining candidates two have offered to host the games in 2023, while the other three are in talks about the 2019 games. The sports body chief also expressed his confidence that "the second and the third games will be held at a high level".
Based on reports by RIA Novosti and Vesti.ru.
All rights reserved by Rossiyskaya Gazeta.