Can Russia's athletes break their unlucky streak in Beijing?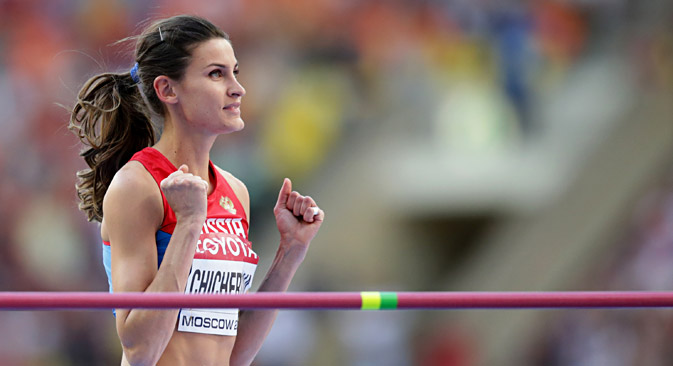 Anna Chicherova in the Women's High Jump Final at the 14th IAAF World Championships in Athletics in Moscow. Source: Photoshot/Vostock-Photo
The Russian national athletics team has been depleted ahead of the upcoming World Athletics Championships in Beijing following a number of doping scandals. According to the head coach, only Russia's high and long jumpers have a realistic shot at gold.
Russia's depleted national athletics team is preparing to take part in the World Athletics Championships in Beijing, to be held from Aug. 22 to 30, as a turbulent year has seen several athletes ruled out in embarrassing doping scandals.
In such circumstances, Yury Borzakovsky, head coach of the Russian national athletics team, is being cautious in his forecasts for the world championship. "The medal plan for the Russian team is 8-10 awards, including 2-3 golds," he told the R-Sport news agency.
Borzakovsky sees only two Russian athletes among the contenders for the gold – high jumper Anna Chicherova and triple jumper Yekaterina Koneva.
The current world champion, Chicherova was a bronze medalist of the 2008 Beijing Olympics and European champion in 2005, and is a seven-time Russian champion.
Koneva's main achievements include two victories at the universiades in Shenzhen in 2011 and in Kazan in 2013, a silver medal at the World Championships in Moscow in 2013 and the title of world indoor champion in Sopot in 2014.
Russia's first black athlete, Lyukman Adams from St. Petersburg, will compete for medals in the men's triple jump. The athlete, who won the Russian championships with ease with a solid score of 17.34 m, has said that he plans to hit peak form for Beijing.
'Russia's Bolt'
For the first time in many years, Russia has the chance of a medal in the men's sprint. Sergei Shubenkov, 24, who will run in the 110-meter hurdles, has become a star both on the track and beyond.
But photo sessions for glossy magazines and interviews in perfect English have not prevented "Russia's Bolt," as journalists were quick to nickname Shubenkov, from consistently achieving top results. So it is quite possible that the bronze medal he won in Moscow in 2013 will lead to something greater in Beijing.
Doping scandals cloud Russia's year
The year 2015 has not been a particularly favorable one for Russian athletics, with the country's sporting reputation continuing to be tarnished by doping scandals.
In January, the Russian Anti-Doping Agency (RUSADA) announced the disqualification of some leading Russian walkers, including Olympic champions Olga Kaniskina, Sergei Kirdyapkin and Valeria Borchina, runner Yulia Zaripova and all-rounder Tatyana Chernova. The scandal led to the resignation of the head coach and the president of the Athletics Federation.
The German ARD TV channel also showed several episodes of a documentary, in which Russian athletes were accused of systematic doping. Sports Minister Vitaly Mutko, however, believes that the accusations against Russia are groundless.
"This scandal does not concern Russia, it concerns the global system of athletics," Mutko claimed in an interview with the TASS news agency.
"But someone is trying to present [the situation] in such a way as if we are the main players in this system. But all these years we have been playing by common rules. Russia has taken and will take strict measures against those who dope."
The Russian Athletics Federation, in turn, has filed lawsuits against ARD and documentary maker Hajo Seppelt. The lawsuits will be heard by Russian courts.
All rights reserved by Rossiyskaya Gazeta.