Russia fined for snubbing Canadian anthem at hockey worlds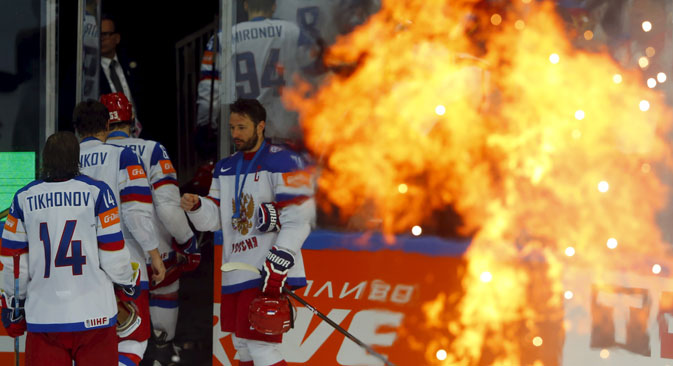 Russian players leave the rink after losing their Ice Hockey World Championship final game against Canada in Prague, May 17, 2015. Source: Reuters
The Ice Hockey Federation of Russia must pay a $83,000 penalty.
The Ice Hockey Federation of Russia has been fined 80,000 Swiss francs ($83,000) over an incident that occurred following the end of the gold medal game of the 2015 IIHF Ice Hockey World Championship in the Czech Republic, the International Ice Hockey Federation reported on Aug. 24.

The Russian team and staff left the ice during the medal ceremony after Canada had won the gold medal game 6-1 and received the medals, but before the national anthem had been played and the flags of the three medal-winning teams were raised.

The Disciplinary Board of the IIHF ascertained that the Russian team captain had discussions with team staff members, after which he talked to his teammates, at the same time nodding towards the gate, which had been open since the start of the ceremony. The majority of the players and the staff members left the ice immediately after the Canadian players had received their medals, while a few players remained, eventually leaving the ice themselves a little later.

At formal hearing with the Ice Hockey Federation of Russia on Aug. 21, General Manager Andrei Safronov expressed his regrets and apologized for the actions of the players and staff. It was emphasized in a statement by the Ice Hockey Federation of Russia that the incident was an unfortunate misunderstanding. The federation said that this was not intentional and that the open gate was interpreted according to existing practices as a signal for the players to leave the ice.
The Ice Hockey Federation of Russia can appeal this decision to the IIHF Appeal Board within seven days of the receipt of the decision.

All rights reserved by Rossiyskaya Gazeta.