Striker Pavel Pogrebnyak leaves FC Reading for Moscow's Dynamo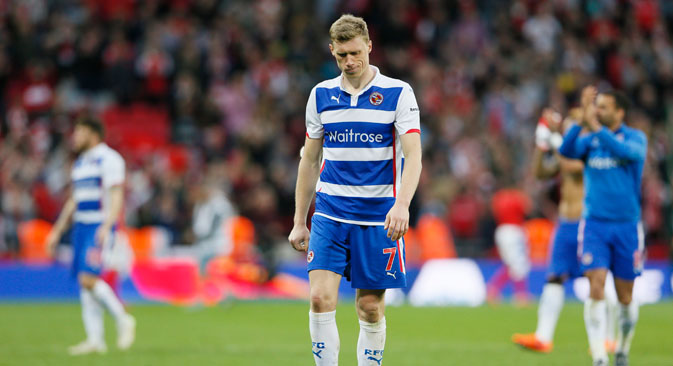 Ravel Pogrebnyak. Source: Reuters
Footballer lured by three-year contract with Russian team.
Moscow's Dynamo football club said forward Pavel Pogrebnyak - last seen playing in the English second division Football League Championship for Reading - was joining it on a three-year contract.
"I believe that with my new team I will obtain bigger success. I would also like to thank everyone at Reading - the managers, the coaches, the players and the staff," Pogrebnyak said.
He added: "And a special thanks to the club's fans. I always felt their support!"
Pogrebnyak joined Reading in the summer of 2012 after leaving London's Fulham. Russia's towering striker signed a four-year contract with The Royals, according to which he was receiving £65,000 a week. After Reading was knocked out of the Premiere League in the summer of 2013 Pogrebnyak became the highest-paid footballer in the second division.
31-year-old Moscow born Pogrebnyak, who began his career in Moscow's Spartak, made his mark playing for St. Petersburg's Zenit. Between 2007 and 2009 Pogrebnyak and Zenit won the Russian Championship, the UEFA Cup and the UEFA Supercup.
All rights reserved by Rossiyskaya Gazeta.