American boxer Roy Jones Jr. says he wants to work on Russian TV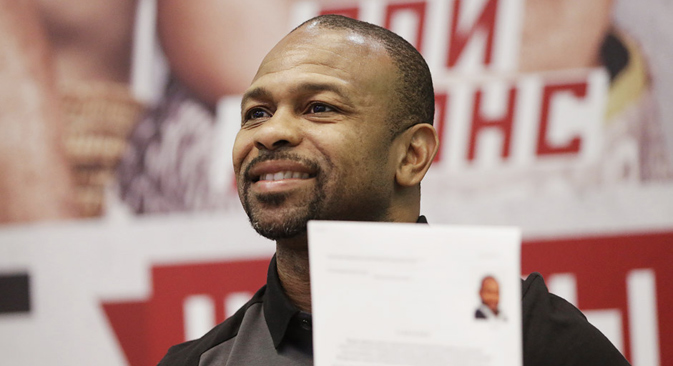 Roy Jones Jr., who applied for Russian citizenship at a news conference in Yalta on the eve of the Battle of Mount Gasfort international boxing show. Source: Maks Vetrov / RIA Novosti
Fighter would like to try himself as an anchor or a sportscaster.
The U.S. boxer Roy Jones Jr. has said that he would like to work on Russia's TV channel Zvezda, the channel's official website reported on Sept. 7.
According to Jones, he could try himself as an anchor or the sportscaster without any problems.
"I'd like to work on TV and I am a TV guy. My face, my body and my language are made for television. I can help people, give them advice, give people a chance to do everything themselves and to be creative", the boxer explained.
Roy Jones Jr. filed an application for Russian citizenship in Yalta on Aug. 20.
Before signing the application, the boxer said he is hoping his decision will help build bridges between Russia and America.
In the "reasons for taking citizenship" column, Jones said that he wants to become an active citizen of Russia, that he loves Russian society in the same way as it loves him, and taking Russian citizenship will help reduce the gap between the two countries.
More U.S.-Russia stories in your box!
All rights reserved by Rossiyskaya Gazeta.