Wrong Russian anthem played at wrestling worlds in U.S.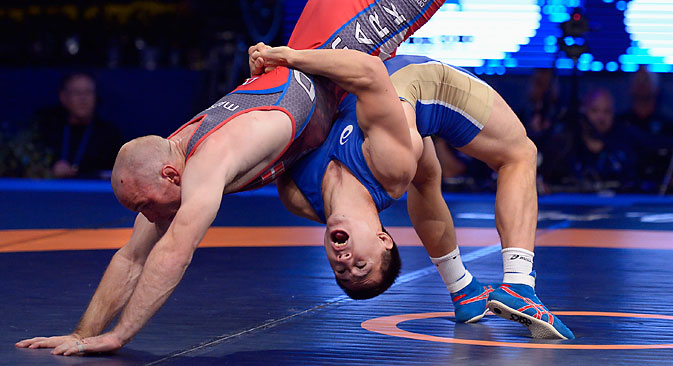 Roman Vlasov (in blue) in action against Mark Overgaard Madsen in their men's 75 kg gold medal match at the Wrestling World Championships in Las Vegas, Sept.7. Source: EPA
Wrestler Roman Vlasov bemused to hear pre-2000 music at award ceremony.
Russia's Greco-Roman wrestler Roman Vlasov became a world champion in the 75-kg weight class on Sept. 7 – but not without incident: The organizers of the world championship, which takes place in Las Vegas, played the wrong Russian anthem at the award ceremony.
When Vlasov rose on the podium, "The Patriotic Song" by Mikhail Glinka, which was the Russian national anthem from 1990 to 2000, was played. But now the music of the Soviet national anthem composed by Alexander Alexandrov is being used once again, with a new text written by Sergei Mikhalkov.
Video: YouTube
"I do not know what anthem was played, and at first did not even pay any attention to it. But after a while, I realized that this was not our anthem," said Vlasov.
"When this foreign anthem ended and some fuss started, I said that I would not come down from the pedestal until the Russian anthem is played! It is for that moment on the pedestal that we toil all year, and they play some other anthem at the award ceremony for some reason."
Vlasov defeated Dane Mark Madsen in the championship final. The organizers later made a formal apology to the Russian side.
First published in Russian in Rossiyskaya Gazeta
More U.S.-Russia stories in your box!
All rights reserved by Rossiyskaya Gazeta.