NHL star Alexander Ovechkin to marry Russian model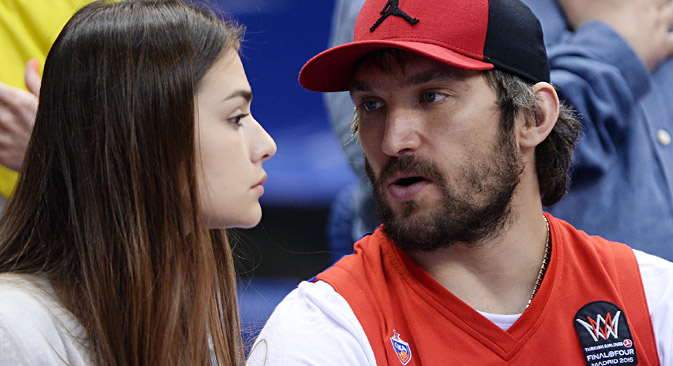 Ice hockey player Alexander Ovechkin and actress Anastasia Shubskaya during the VTB United League semifinal between PBC CSKA Moscow and BC Nizhny Novgorod. Source: Alexei Filippov / RIA Novosti
Alexey Filippov/RIA Novosti
The Washington Capitals forward has proposed to girlfriend Anastasia Shubskaya.
Russian national team forward and NHL star Alexander Ovechkin has become engaged to his girlfriend Anastasia Shubskaya. He made the announcement on his Instagram account.
"She said yes," Ovechkin wrote, attaching a photo together with Shubskaya.
Anastasia Shubskaya is a Russian model and actress. She and Ovechkin began dating at the start of the year. According to Shubskaya, the proposal came as a surprise.
"He came home, I opened the door, and he was there on bended knee, holding flowers and a ring in his hands," she told the Russian TV channel 360 Podmoskovye. Shubskaya went on to add that she liked Washington DC, where she is now to relocate to from Moscow. She described it as "a calm city, perfect for a family."
Ovechkin's previous relationship was with tennis player Maria Kirilenko. The two dated for about three years and in 2012 announced their engagement. However, in June 2014, the couple broke up and several months later Kirilenko married a Moscow city government official, Alexei Stepanov. In July 2015, she gave birth to a son. Ovechkin also dated gymnast Karolina Sevastyanova for a while.
In 2008, Ovechkin signed a 13-year contract with Washington Capitals worth $124 million. On Sept. 17, 2015, he will turn 30.
More U.S.-Russia stories in your box!
All rights reserved by Rossiyskaya Gazeta.